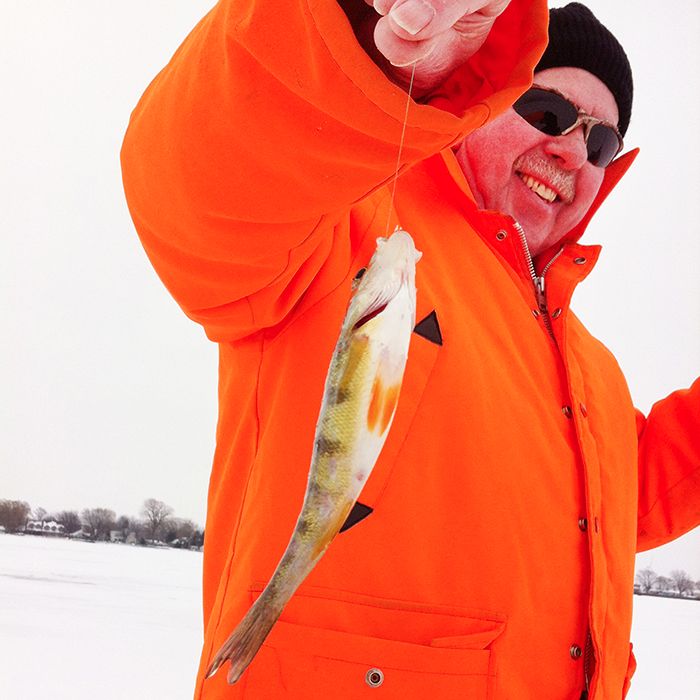 Bill Hall showcases the biggest fish he and his son, Chatham Voice contributing writer Aaron Hall, pulled out of the waters of Mitchell's Bay during a recent ice fishing excursion. It was also the only fish to take an interest in their bait. The inconsistent weather has made for an equally inconsistent ice fishing season so far.
With the deep freeze of the polar vortex winding down, allowing the inside of our noses not to freeze the moment we stepped outside, my dad and I decided to partake in one of the most popular outdoor excursions available in Chatham-Kent – ice fishing at Mitchell's Bay.
The perch was our goal, and nothing was going to stop us from filling our pail.
In preparation, my pops, Bill Hall, headed over to Ed's Bait in Wallaceburg the evening before our trip to buy some minnows. We both got a good night's sleep, dressed in about six different layers, loaded our hand-made sled, equipped with welded skis on the bottom, and headed out.
United FloorsCabinets from Chatham Voice on Vimeo.
Our first stop was Bass Haven to update my Outdoor's card. I proceeded to purchase a conservation license.
"That's 25 perch, and two walleye," said Nancy at the counter. I thought in my mind, "No problem; my dad and I could pull that from the frozen bay in no time."
We headed to the same place where my daughters were splashing around this past summer, which had transformed into an ice parking lot.
As we unloaded our gear, our next step was to find the "ice taxi" that transports everyone to the hot spots about a mile out on the bay at the end of the tree line.
"Not heading out today guys," the man told us. "It's all slush. I'm getting stuck every time."
This didn't stop us.
On foot we went, trudging through snow drifts, slippery sections of ice and slushy spots, until we reached a location that looked and felt right, about a half-mile off shore across from Steel Island.
We cleared away a patch of snow, and unpacked the auger my Dad snagged off Kijiji for $20.
Around and around it went, chipping away the ice… 3 inches deep, 6 inches, 10 inches.
Sweating and a bit out of breath by this point, I continued on until… success. Water started spilling over the top, as the round portal took form… the gateway of our fishing prowess. I almost expected the perch to start jumping right out of the hole and I could almost smell the aroma of a frying pan with searing fish inside.
But first things first, work still needed to be done.
The inevitable wait ensued, and with the wait comes great conversation.
My dad and I discussed the recent happenings in our lives and with our family. Past fishing trips came to mind; we enjoyed some great laughs; discussed old friends and family who are no longer with us.
On this day, the -1 degree wind felt like a warm summer breeze compared to the polar vortex chill we had been experiencing.
As he was packing it in and walking by us, I chatted with Dresden-area resident Dave Johnston.
"Compared to other years, it hasn't exactly been the greatest because the weather has been up and down," he said. "We had that rain that got it dirty… it started to get good again, then it started to get too cold. It looks like it got them shut down a little bit."
After only hauling in three keepers, Johnston laughed when I asked him if he was still having fun.
"I'd rather be in the boat," he said. "A lot less walking in the boat."
An hour passed by, and then another.
Still no luck for us, or nibbles.
But then it happened. Just as I was about to solve the last of all the world's problems, a flicker of yellow caught my eye in the hole below.
The jig and minnow on the line below was being jolted by one of the creatures of the bay.
Dad braced the line and the triumph ensued.
Lifted from the depths of the bay was our first fish … a four-inch long perch.
We laughed, posed for a picture and let the fish go back down the hole.
And then, the optimism set in.
"Well a whole school of perch could be swimming by," Dad said.
Our hope only lasted another half hour or so before we packed up and made our trek back to our vehicle.
In the distance, we could see a small community forming of people, ice shanties and four-wheelers. So although it wasn't our day, it appeared it was for a handful of local residents out on the bay.
Comments
comments