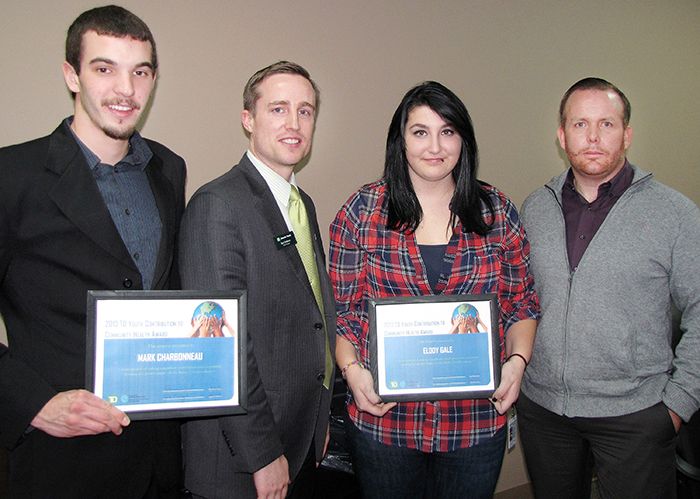 Mark Charbonneau and Elody Gale pose with their TD Youth Contribution to the Community Health Awards. Ben Srokosz TD Bank branch manager, second from left, presented the awards in Chatham Thursday. Also pictured is Darren Wood, youth programs co-ordinator with Chatham-Kent Community Health Centres.
Two young people who are making a difference in the lives of others are being recognized for their efforts.
Mark Charbonneau of Tupperville and Elody Gale of Wallaceburg, both volunteers with the Chatham-Kent Community Health Centres, were given the TD Youth Contribution to Community Health Awards Thursday evening in Chatham.
Darren Wood, youth programs co-ordinator with CKCHC, said the awards go to two young people who have made a significant contribution to the community, resulting in a positive impact on the health of local residents.
Charbonneau, 18, is enrolled in the child-youth worker program at Lambton College.
He has been working with Grade 4 students, helping children with physical, emotional and behavioral disabilities.
"Because the community is small, he meets with the youth and families in the community," said Wood. "They nominated him, saying he has had a positive impact in the Tupperville community. So that speaks volumes for what these youth are doing."
Charbonneau, who became interested in helping children through his involvement with the United Way, said his volunteer efforts have been rewarding.
"It taught me a lot … actually sitting down and talking to them about their issues and even helping them with their work," he said of his experience.
Gale, 14, has been a volunteer in a self-esteem building program for girls called "Be Your Own Beautiful."
"It promotes positive body image and mental health well-being in youth and she has done a fantastic job," said Wood, who praised Gale for her commitment to the program and being available when needed to help out with other programs.
Gale, who was a victim of bullying and experienced low self-esteem, has rebounded to help other young girls who are facing similar problems.
"We bring a group of girls together and help them realize that 'you're good the way you are; nobody can really change that.' And in the program they make more friends," she said.
Wood said the CKCHC offers a number of programs for young people.
The centre started with therapeutic programs for at-risk youth with issues such as mental health and substance abuse.
"Because we promote engagement in the community, we're also starting to go more toward youth programming that all youth and the community can benefit from," said Wood.
Examples include free summer camps, sports programs and a male social group.
"There are youth out there on the streets and they have nothing to do, and they're coming in and they have positive support," said Wood.
The CKCHC serves residents throughout Chatham-Kent, with locations in Chatham, Wallaceburg, Walpole Island and Pain Court.
Comments
comments