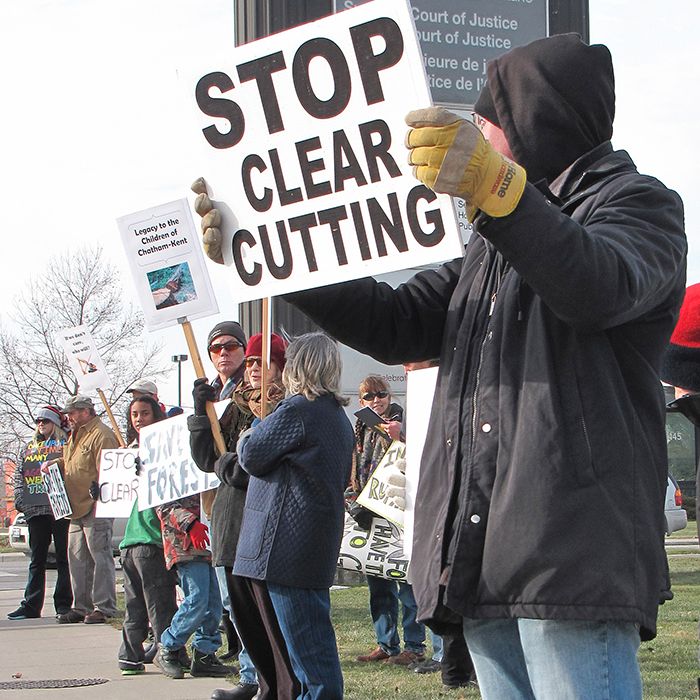 People in favour of a woodlot management bylaw for Chatham-Kent encouraged others to support their cause at a rally held Saturday near the courthouse in Chatham.
A rally on Saturday in support of a woodlot management bylaw attracted 60 supporters to protest the loss of trees in Chatham-Kent.
People lined the sidewalk of Grand Avenue West near the courthouse in Chatham to draw attention to the issue.
Many held placards and encouraged others to sign a petition in favour of a woodlot conservation and preservation bylaw.
Rally organizer Ken Bell said forests in Chatham-Kent have been destroyed at an alarming rate over the past two years because of rising crop prices and higher land values.
"There's been a lot of speculation by corporations and by farmers on land they would purchase and clear with the hope of gaining some profit," said Bell. "What they're doing is selling off our future."
Bell fears the loss of trees is causing long-term damage to the area's ecosystem, noting trees play a role in maintaining clean air and water, and healthy soils.
"Without that (ecosystem), we're destroying our entire heritage, and we're destroying those things that keep us alive," he added.
Wallaceburg Coun. Sheldon Parsons raised the issue of a woodlot management bylaw in February and sought council's approval for a moratorium on clear cutting.
Parsons' plan was rejected and the matter was put off for study.
In October, the idea of woodlot control was again before council.
Council voted in favour of a staff recommendation to develop a conservation policy that would be developed by April 2014 while receiving a draft bylaw, which could be implemented at a later date.
"I think the trigger will be how many woodlots are going to be taken down in the next few months," said Chatham Coun. Anne Gilbert, who was at the rally, "because this council took a moderate approach, passed a policy process but is fully aware that there is a bylaw ready to be passed should the farming community not respect the environmental aspects of their land."
Bell said the conservation policy doesn't go far enough and needs the regulations of a bylaw to be effective.
"Without regulations, a policy is no more than a statement of intent and so it has no power to do anything," he said.
Gary Eagleson, a retired biology teacher and fresh water scientist, spoke in favour of the bylaw at the rally.
"A bylaw, with potential compensation for woodlot owners, is in the best, future interest of our ecosystem, including humans – rural or urban – and other creatures alike," said Eagleson. "A bylaw would not prevent our productive agriculture community from continuing to provide food for the world."
Lyle Phelps, who doesn't support clear cutting but also doesn't like the idea of bylaw, came to the rally to learn more about the issue.
"As far as I'm concerned, the way it was portrayed at the start, they were telling you that you couldn't cut a (single) tree down," said Phelps.
While gaining some insight into the pro-bylaw argument, the Merlin-area resident still has some reservations.
"It's because people don't like to be told what to do," said Phelps, adding that he lost 80% of his trees during the effort to prevent the spread of the emerald ash borer. "I think the government's just gotten out of hand," he said.
R.J. Hitchcock-Christian, another organizer of the rally, admitted they were anticipating a larger turnout but was pleased with the demonstration.
"Every person matters; the kids are awesome. It was really good," she said.
With more than 5,000 signatures on their petition, Hitchcock-Christian hopes the rally raised more awareness as the pro-bylaw group plans to ramp up the political pressure to end the clear cutting until a bylaw and policies are in place.
"We'd like to see it stop until they come up with a resolution because we're really getting hammered here; they're taking out hundreds of acres," she said.
The C-K Woodlot Preservation group estimated that 1,700 acres of trees have been lost this year, the fastest rate in recent history.
Hitchcock-Christian added the issue should not be viewed as pitting "tree huggers" against farmers.
"It's a mutual respect when it comes to our environment and what we're focusing on is for people to be aware of what's happening here," she said.
Comments
comments