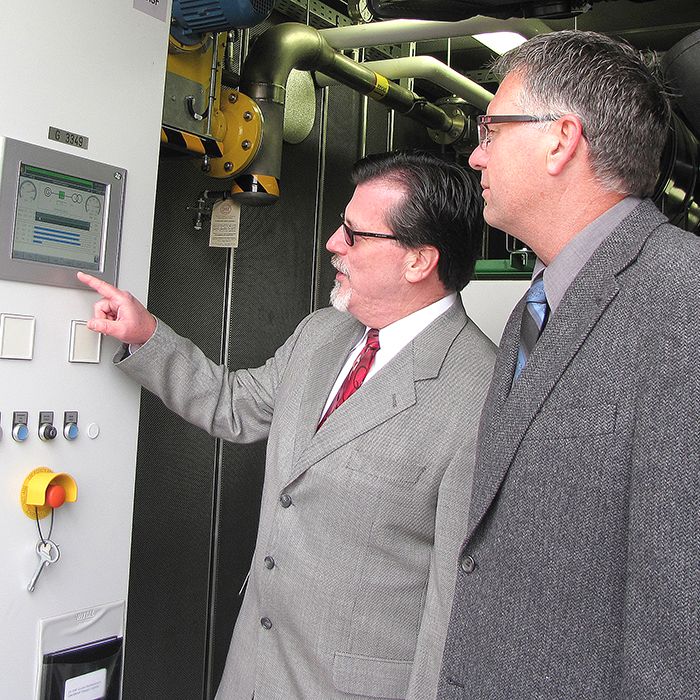 The Chatham-Kent Public Utilities Commission is now using a new facility to produce electricity from methane, while reducing its operating costs.
Working with Entegrus and Corix Utilities (the minority shareholder of Entegrus), the PUC built a new methane-burning generator at the water pollution control plant on Irwin Street.
The system was unveiled during a ribbon-cutting ceremony on Monday at the plant.
Methane, which is produced during the wastewater treatment process, is now being burned by the new generator to produce electricity.
Tom Kissner, PUC general manager, expects the $1.4 million system will pay for itself in seven years because it will generate net-revenues of $220,000 per year.
With a 20-year contract under the Ontario Power Authority's feed-in tariff system, the process will generate net profits for 13 years.
"That will certainly have an impact on rates and will help to offset rates," said Kissner.
While the PUC first studied the idea in 2005, the project really took shape about two years ago as the equipment has evolved.
Kissner said they would have needed additional equipment, including scrubbers, to clean the methane gas if they adopted a similar system eight years ago.
"Equipment has evolved and it's gone to the point where we can take a dirtier methane gas, so it became a viable project, back about two years."
Biosolids are also being transferred from the Wallaceburg wastewater treatment plant to increase the methane production in Chatham.
Kissner said this concept results in $1 million worth of capital savings for the PUC.
In addition to producing 250 kilowatts of energy per hour – the equivalent used by 175 homes – the system is helping the PUC improve its efficiency.
In the past, Kissner said the methane would be used to fire the boilers at the Chatham wastewater treatment plant for heat. The excess methane would be burned off.
"Now we're using all the methane we're producing at the plant to run the generator, which produces hydro," he said, adding the cooling water in the process is being used to heat the generators and minimize the use of natural gas.
Tomo Matesic, president of Entegrus Transmission, said the technology being used in Chatham is the first application of its kind in Canada.
A key piece is the large, dome-shaped shell that stores the methane. A bag inside the shell takes the extra methane from the wastewater treatment plant and stores the gas in a tank until the generator can use it.
Commissioned in the summer, the system has been fully operational since early October.
"There are lots of applications that this could be cross-applied to," said Matesic, "Think of all the landfills, all the greenhouses; (and) every city has an anaerobic digester and a waste treatment plant. This is a great opportunity for us to introduce this type of technology across multiple municipalities across southwestern Ontario."
Comments
comments