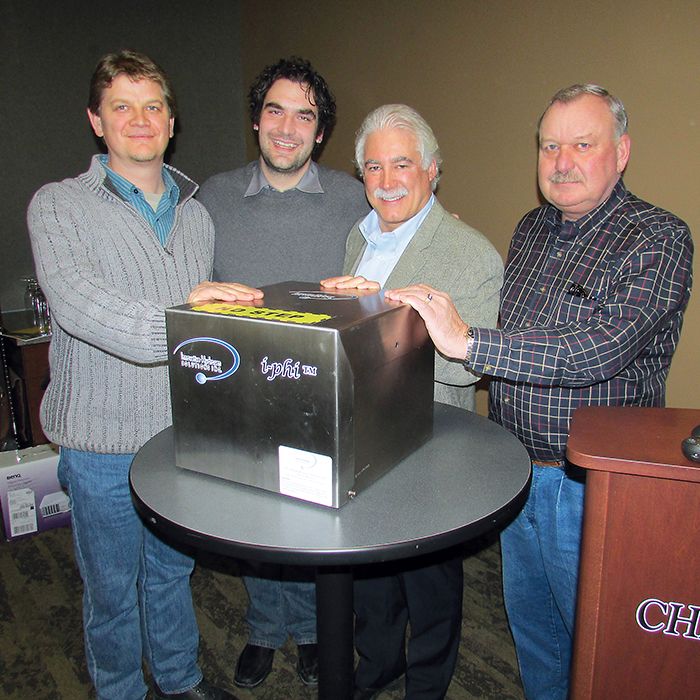 Calling it "a great opportunity," Innovative Hydrogen Solutions (IHS) officially announced its manufacturing presence in Chatham-Kent Wednesday.
Ron Bogart, chief financial officer for Aurora-based IHS, told a gathering of municipal politicians, economic development staff and local trucking company manager about the manufacturing line that will go into part of the Cross Country Manufacturing building on Solvay Drive in Blenheim.
IHS has developed a hydrogen injection component that's an after-market add on for diesel engines which can significantly reduce particulate and nitrous oxide emissions from the exhaust, Bogart said.
"We have the ability to manufacture in quantities to distribute across Canada and North America," Bogart said of the Blenheim manufacturing site. "To not have to build our own facility here is a huge bonus for us. We now have a dedicated assembly facility with proper management."
Chatham-Kent Mayor Randy Hope said it was great to see two local entrepreneurs, Jonathan Doerksen and Dan Brown of Cross Country, to be involved.
Doerksen is president of Cross Country, which moved to Blenheim less than a year ago, while Brown is plant manager.
Doerksen said he and Brown formed a partnership to create the company that will manufacture the IHS injector system, which in turn is leasing space from Cross Country.
"It's an investment on my part in Chatham-Kent," Doerksen said. "And we help develop a new entrepreneurship. I'm excited."
Despite the fact this new partnership is still without a name, Brown pledged the first systems would be completed before the end of the year.
"The first ones will be off the line within the next 30 days," he said.
As for employment figures, IHS president Joe Williams said in a previous interview with this newspaper that there could be upwards of 270 jobs involved.
Brown said at startup, there are only a handful of new employees hired, however.
Stuart McFadden, deputy director of economic development for the municipality, said the use of the IHS technology for logistics companies has numerous benefits.
"With the trucking industry, there are so many things you can't control, such as gas prices, government emissions regulations and maintenance costs. But this can help in all facets," he said.
Bogart said on a transport that travels 16,000 kilometres or more in a month, the technology will pay for itself in less than a year. Each unit costs about $15,000.
The IHS system injects a small amount of hydrogen into the diesel combustion chamber, leading to a more complete burn of the diesel fuel, and cutting pollution in the process.
The result is increased fuel economy, lower greenhouse gas emissions and less maintenance work due to the cleaner burn.
Williams, in a previous interview with The Voice, said the technology can cut particulate matter emissions by up to 86% in a long-haul transport and reduce nitrous oxide emissions by 25% or more.
Bogart said IHS guarantees an increase in fuel efficiency by 10%
Don Tetrault, who is in the used truck business locally and is an IHS shareholder, is a big proponent of the injection system.
"It's clean-air technology," he said. "When carbon credits come out, this will work well in that system."
IHS first began looking for a manufacturing site for its technology more than four years ago. It actually chose Chatham-Kent back then, working out a deal with Wallaceburg Preferred Partners (WPP) in 2009, where Brown was plant manager. But WPP's parent company forced the work to head south of the border, Williams told The Chatham Voice.
Last year, the company building the components in West Virginia closed, leaving IHS to build its own technology, and sending IHS management on a quest to find a replacement assembler, preferably closer to home.
And now they've reconnected with Brown.
"I was excited about the product five years ago. Advancements since then really make me excited," Brown said.