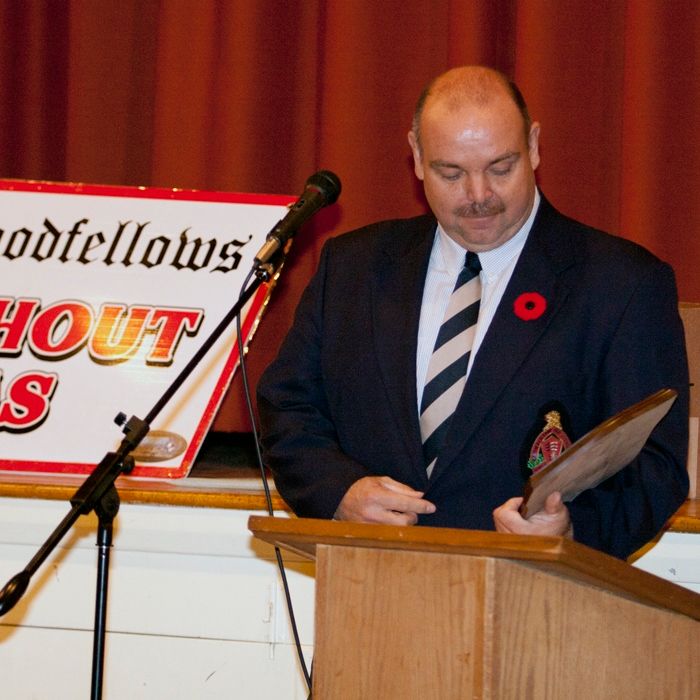 When his name was called to receive the prestigious title of this year's Mr. Goodfellow at the annual general meeting on Thursday evening, Rocky Schram couldn't believe his ears.
The forty-nine year-old samaritan has been involved with the Chatham Goodfellows for numerous decades, delivering food and toy baskets to hundreds of families across Chatham-Kent.
The Chatham Goodfellows, whose motto is "No Child Without Christmas," is in its 59th year of ensuring local families enjoy a traditional Christmas meal and have gifts for their young children.
Their continuous goal is to not be needed, however, they have found that this year is no exception to any of the others.
The not-for-profit organization counts on volunteers like Schram to help pack and deliver some of the 800 toy boxes and 1,600 food baskets across the area each year.
Schram, one of 2,000 annual volunteers, first got involved with the organization when Scott Williston, the current Chatham Goodfellows president, asked him for some help.
"I came to give a hand, saw the need and have been here ever since," said Schram.
No one knows how crucial Schram's contributions have been to the Chatham Goodfellows more than Williston himself.
Schram recruited the help of The Essex and Kent Scottish Regiment, which has been an invaluable asset to the Goodfellows' operations.
"Without them, we wouldn't get things delivered," said Williston.
While Schram says there may be times he gets frustrated, the gratification he gets from delivering the parcels make each moment he gives to the Goodfellows cause well worth it.
"There's never been a night where I haven't delivered something where it hasn't tugged on your heartstrings," said Schram. "There's that little kid with a card who has coloured it all up, folded it up and gives you a big hug – that's what it's all about."
Schram, who spends roughly 20 hours a week of his time helping the Goodfellows, said he has always done the work year after year for a very specific reason.
"You don't do it for the thank yous, you do it because it's the right thing to do. It's for the kids," he said.
Today, the annual operation has become part of a family tradition, with his two sons driving boxes and his wife helping pack.
One of his hopes for the future of the organization is for more members of the community to step forward and help any way they can.
"We're talking a night. In the time it takes to watch three sitcoms, you could change someone's life," he said.
With the annual meeting over, the real work is just beginning with toy boxes to be delivered to homes on Dec. 18 between 5 p.m. And 9 p.m., and food baskets on Dec. 19 between noon and 8 p.m.
For more information on the Chatham Goodfellows and how to become a volunteer, call their office, which opens Nov. 11, at 519-351-1146.
Comments
comments