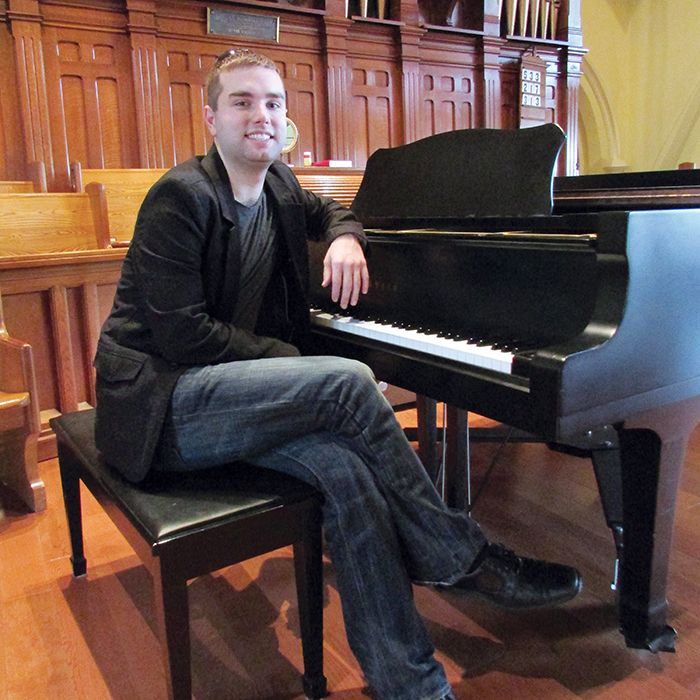 At age 24, the list of accomplishments for Devon Hansen is lengthy and a positive indicator of his future as a music director and piano teacher in Chatham.
Hired in January of this year as the new music director at St. Andrew's United Church, Hansen already has a successful spring concert under his belt. Part of the Saturday's at 7 series at St. Andrew's, the inaugural concert, "Broadway and Beyond," featured music from stage and screen June 8 and was a success with the public, according to Hansen.
"We had our first concert in June to see the reaction, and we had huge support in the church and in the community," he said. "That was a cue to me that there is broad support, so we developed a fall season."
Hansen said it's a way to showcase Chatham talent and get the community involved by participating in, and attending, the performances.
The 2013-2014 fall concert series begins Oct. 19 with "A Joyful Noise," featuring organists from Chatham-Kent, Windsor and Detroit. It also will highlight a piece of history from St. Andrew's – the 90th birthday of the 3-Manual Cassavant organ in the sanctuary.
On Nov. 16, the second concert will feature Chatham native Megan Nuttall, accompanied by Hansen. Nuttall has been working professionally in the musical theatre/film and television industry for the past eight years, and has two movies due out later this year.
"Home for the Holidays" will be the offering Dec. 21, featuring the St. Andrew's Chancel Choir, Chatham-Kent Christian Men's Choir, as well as various soloists.
Bringing his knowledge and passion for music to youth in the area is a big goal for Hansen, who sees a void in Chatham's schools for music programs taught by qualified professionals. As one way to begin the process, he started a hand bell choir for kids aged five to 10 that is open to the public and it starts with the basics.
"They ring the bell by colour – they don't need to read music. You build on that and from there; they can learn notes," Hansen explained.
Getting youth into church can be difficult, Hansen said, but establishing a music program sponsored by St. Andrew's will hopefully encourage youth 10 to 20 to get involved and grow from there.
"We'll see what we need and that will be our challenge this fall and winter to get support for that," he said. "It's a way to give back to the community."
Limited exposure to more comprehensive music programs is a concern to Hansen, and others he has encountered in his profession.
"The worry is that in 30 years, we will have a generation that is musically illiterate," Hansen said. "Studies show that learning music helps you in school and is good for your brain development."
He sees a lot of potential in Chatham, however, in its support for the arts and has moved his base of operation from the Windsor area to Chatham so he can also start teaching piano lessons and theory from a studio at the church. He has the full support of St. Andrew's and hopes to build his business into a full-fledged studio, then storefront and grow from there.
Since the age of five, Hansen has studied music under the direction of the Royal Conservatory of Music. At 15, he attended Walkerville Centre for the Creative Arts, and added vocal music and dance to his resume. He also had the distinction of being the youngest pianist at 17 to attend the National Ballet School of Canada's Musician Mentoring program at that time.
The music director graduated magna cum laude with a Bachelor of Music in piano performance from Wayne State University and is currently finishing a Master of Arts in Musicology from Wayne State.
For more information on the Saturday's at 7 series, or signing up for lessons, Hansen can be reached at St. Andrew's at 519-352-0010, ext. 4, by e-mail at devonlhansen@gmail.com, or check out www.standrewschatham.org.
Comments
comments