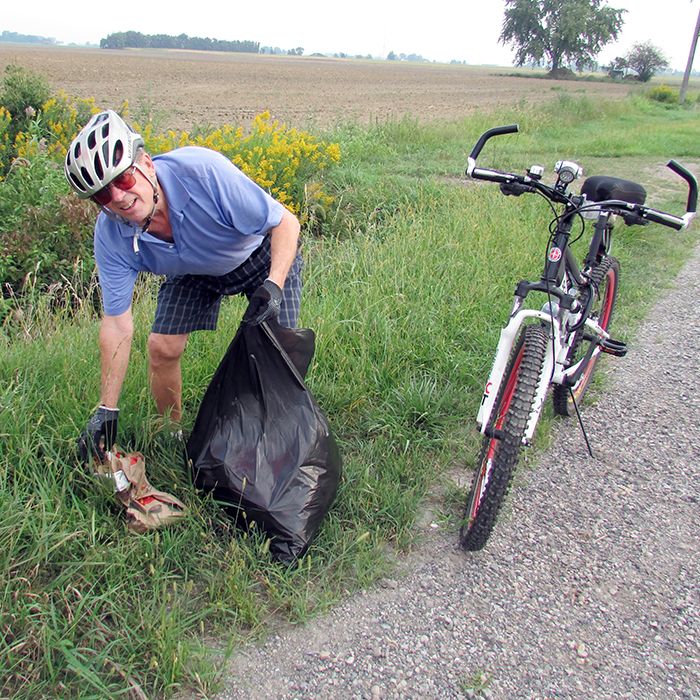 Richard Carnell was mad as hell . . . and he did something about it.
Carnell, who moved to Chatham six years ago, likes to bike every morning. But his daily pedal along rural roads just north and west of Chatham quickly had him noticing how garbage littered the roadside ditches.
"I just can't believe what people do out there," he said, referring to the ditches along Gregory Drive, Pioneer Line and Baldoon Road in particular.
Rather than just complain about the trash, Carnell took matters into his own hands: He effectively adopted the roads.
Before living in Chatham, Carnell said he lived in Southampton, Ont., where the Rotary Club to which he belonged adopted a stretch of roadway as well.
"Nothing changes. No matter where you are, people throw their trash," he said.
What Carnell does now is regularly police the ditches, pulling out garbage that people have simply tossed out of their cars. He said Coffee shop paper cups and cigarette packs are the most common items he encounters.
"I guess they go together," he said. "Water bottles are also a big item. Other fast-foot stuff too. And of course a lot of beer cans after a weekend."
Carnell said he's found other items as well, such as a load from what he thinks was from a contractor.
"There were cables, gas-line markers and other stuff. That took an entire garbage bag," he said.
Carnell rides his bike for about 90 minutes each day on these rural roads, getting exercise, and hoping for a nicer view. He said his efforts are paying off, as he's lost about 30 pounds this year and the ditches are much cleaner.
"I just started cleaning up about three weeks ago. I'd park the car, go for a walk for about an hour and fill up a garbage bag," he said.
But his cleanup efforts aren't without their hazards, including other concerned citizens.
"This farmer came tearing up and he gave me a piece of his mind," Carnell said. "I told him I wasn't dumping trash; I was picking it up."
Another hazard is the depth of the ditches. Some are eight to 10-feet deep.
"You have to watch yourself. I did kind of slip down one once," Carnell said.
Carnell thinks parts of the United States have the right mentality for roadside cleanup.
"In the States, we'd go golfing and we'd see all the convicts along the side of the road. They clean up the trash all the time on a regular basis," he said. "It's a hell of a good idea. We could learn something from that."
Carnell, like too many other folks in Chatham-Kent, could have just complained about an issue rather than become part of the solution. But that's not his way.
"It's just like a civic duty. I used to do it with a service club. And I'm going to adopt my area."
He'd like a little help. And he knows where to start.
"I would love to see fast food places putting up signs asking people to not litter.
Just take it (the trash) home. That's not too difficult, is it?"
Apparently for some folks, it is.
Comments
comments