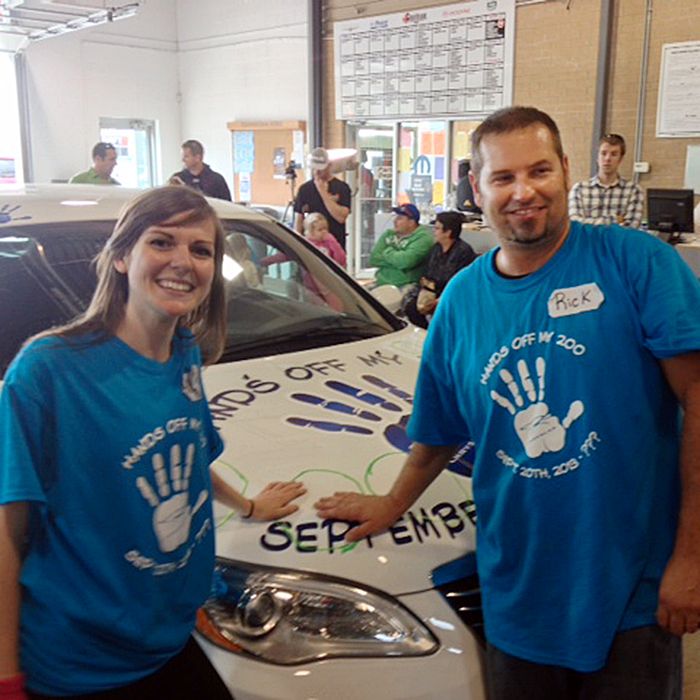 I spent a chunk of my Saturday hanging out at Chatham Chrysler's Hands Off my 200 event, and I must say, it was intriguing.
Imagine standing on asphalt and concrete, one hand essentially glued to the surface of a Chrysler 200, for hours on end.
These were some determined people.
When I arrived, the 11 remaining participants (27 started the competition at 1 p.m. Friday) were being put through their paces, as they weren't allowed to move their feet for an hour.
Things progressed with 10-minute periods of locking up one's knees, keeping one's feet planted on the ground and mouth shut.
Contestants had to raise one foot for 10 minutes. And then raise one foot and hold the opposite hand over their heads for 10 minutes.
Most everyone who bowed out when I was there didn't fall to these tactics, but rather did so because the prize pack being offered as enticement was too good to refuse.
Or maybe the last gruelling task made them decide to take the next good deal offered.
I bow down to the participants, especially Rick Benoit and Allison Kyle, who were the final two holding onto the 200. They agreed to tie, with Benoit taking the remaining prize packs and Kyle walking away with a year's lease on a Chrysler 200.
No way I could hang onto a car for 25 and a half hours like these two did. My back and knees would have revolted after a few hours.
Of food and football
My football-loving nephew and his parents made a return visit to the man cave on the weekend, with, if you can believe it, even more food than last time.
"We have more people to feed," my brother-in-law said as he brought in a large bag of appetizers and snacks about half an hour before kickoff.
My sister-in-law followed about an hour later (she's not a huge football fan) with a big crockpot of pulled pork. Oh, and a veggie tray, whatever that is.
Six early games in HD, too much food, and a sluggish Bruce by halftime. And a very happy nephew who was soaking up the games. He almost was able to keep up with my channel flipping too, but focused mostly on the Detroit Lions game. Even though he's a Bears fan and knows he's supposed to despise all other teams in the same division (the Lions are one), he cheered for them anyway. Good kid – his aunt (my lovely wife) is a Lions fan.
But man, that boy really HATES the Green Bay Packers. And his words for the Minnesota Vikings are pretty nasty too.
Yes, he's a football fanatic in training, but he's well on his way to having the right mindset.
Plus he eats like an offensive lineman, which is accurate, considering he's the centre on his Chatham-Kent Cougar team.
Seriously, I think this 10 year old had more pizza and chicken bites than I did, which is saying something, as I couldn't go near the pulled pork until after the late games began.
Rather than slip into another crockpot-induced coma watching the late games, we instead headed to Chatham-Kent Secondary School to observe the lad play in his first game of the season.
The weather was perfect for football – cool, bordering on downright cold thanks to the brisk north wind, with dark clouds overhead. Considering we were two days removed from hot and humid, more than a few sets of teeth chattered on the sidelines.
We enjoyed the game immensely, despite the boy's squad losing 13-0, thanks to the entertainment on and off the field. It was especially humourous to listen to my sister-in-law. Remember, she's the one who isn't a huge football fan, and is still working on understanding all the rules.
But, man, is she vocal! She even had the people beside us laughing at one point.
She regularly encouraged her son's team to "Block!" and "Run!"
One pass from the other team bounced off a set of hands and a helmet before falling incomplete. "Fumble!" she yelled. We explained to her it was an incomplete pass. "I was just hoping that's what they would have done," she meekly countered.
Comments
comments