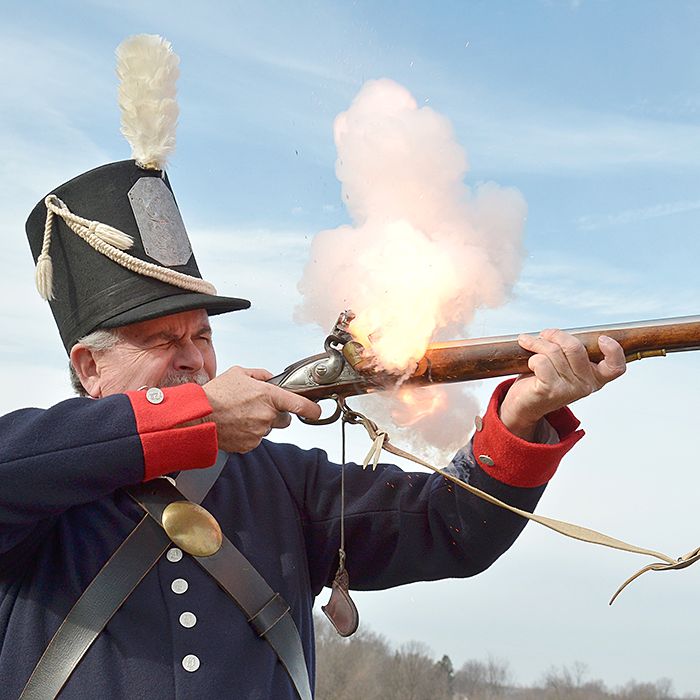 Planners of the bicentennial of the Battle of the Thames commemoration can barely contain their excitement when they talk about the event.
And who can blame them?
On Oct. 5, as many as 50,000 people could invade the site of the famous 1813 fight that left native chief and war hero Tecumseh dead and the British defeated.
Volunteer Dave Welton said the commemoration is huge in the minds of re-enactors, of which an expected 700 will be in the field that day – the same field where the battle took place exactly two centuries ago.
"It's 200 years ago to the day. It's on the actual battleground," he said. "That stuff is very significant to historical re-enactors. You get excited."
And leading the way is Mark Dickerson, president of the Battle of the Thames committee. Welton, who also happens to be Dickerson's father-in-law, said Dickerson grew up on a farm beside the battlefield.
"As a boy, he'd go out and play British versus Americans and find artifacts in the fields," Welton said.
He added Dickerson came up with the idea of a large-scale re-enactment to commemorate the 200th anniversary of the original Battle of the Thames.
"Once Mark had this dream, a lot of us got pulled in," Welton said.
Dickerson, who showed up at a press conference Sept. 18 in full British Army apparel, is indeed excited.
"It's hard to predict how many will come Oct. 5, but there's been a buzz about this event," he said.
Dickerson said the Battle of the Thames site will take up more than a mile of real estate along Longwoods Road, which will be closed off for the day Oct. 5.
Welton will be in full U.S. military uniform for the battle. He is a veteran re-enactor who had hung up his American infantryman's jacket, but jumped at the opportunity to be part of this event.
"I'm right back into it," he said. "My friends of similar age will be back out on the field. We call ourselves the old guard."
Welton hopes the weekend will be as busy as anticipated.
"We've been told to prepare for 50,000 (people)," he said. "There are no accommodations to be had in Chatham that weekend.
Everything is taking place four kilometres out of Thamesville. There are no convenient parking lots where people can leave their vehicles and be shuttled to and from the site. Welton said there will be enough parking in nearby farmers' fields for 8,000 cars.
He credits the farmers for planning their crops around this weekend.
"The fact they'd give up their property, it's amazing. Hats off to them," Welton said.
Welton said support from the municipality has been "tremendous.
"There's a lot of in-kind support – stuff we could never afford to do on our own."
Government support, from all three levels, has also come in monetary form, he added.
Chatham Coun. Michael Bondy said the effort from organizers is staggering.
"The amount of work that's gone into this is incredible," he said.
The Canadian Cowgirls precision riding team from TJ Stables will also take part in the re-enactment. But Welton said people would be hard-pressed to see the women, as they will be in in uniform as members of the Kentucky Mounted Infantry.
"We really wanted horses on the field. There was a cavalry charge in the battle," he said. "We provided them (the Cowgirls) with uniforms and they'll paint their faces up with mud and really look the part.
"These are expert horsepeople. It's exciting for us and exciting for them."
While the battle re-enactment takes place Oct. 5, there will be a skirmish one day earlier as part of Education Day, where upwards of 5,000 students will attend.
Welton stressed the battle and skirmish are focal points of each day, but there are dozens of other events going on throughout each day.
"Yes, there's a skirmish on Friday and, yes, there's a battle on Saturday, but there will be a whole lot more than that taking place," he said. "There will be a lot of demonstrations and a lot of getting back into history. It's good family entertainment."
In fact, there is plenty going on leading up to Oct. 5, from theatre to archeological digs to a seven-day world unity gathering of first nations.
Marion Johnson, playwright of "Like a Hero Going Home," a play about Tecumseh, is proud to see her work part of a dinner theatre that will take place at Thamesville United Church Sept. 29. She said she worked with a Chippewa elder to develop the script and the play has a mix of first nation and traditional actors.
"It's a very tragic story but the play also emphasizes the greatness of the man," she said.
For the people who attend the battle Oct. 5, Welton advises people to bring a lawn chair.
"Set it up on Highway 2 (Longwoods Road) and when you come back to it, you'll be able to watch the battle," he said.
Dickerson said the view from the road should give most people an excellent vantage point to watch the re-enactment.
And rain or shine, this battle re-enactment will take place.
"If it rains, put on your raincoat and join us," Welton said.
For a full list of events, please go to www.battleofthethames.ca and click on "Bicentennial Events in Chatham-Kent."
Comments
comments