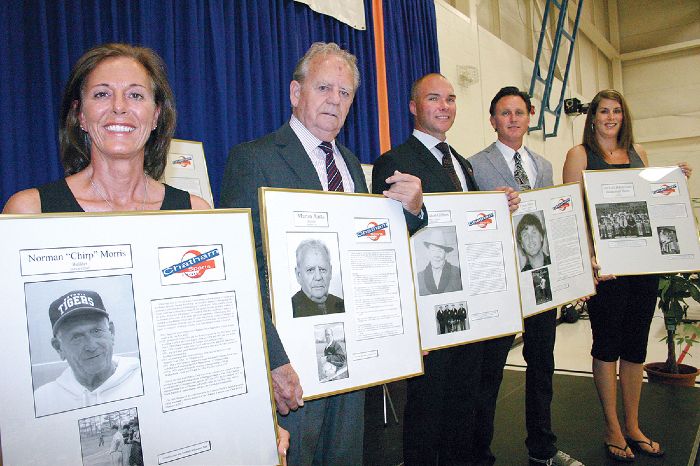 It was a time of reflection, remembrance and celebration at the 15th annual Chatham Sports Hall of Fame dinner and induction ceremony.
Being honoured at the Chatham WISH Centre event were Tyson Parry, athlete – modern; the late Peter Luton Gilbert, athlete – legend; the late Norman "Chirp" Morris, builder; Martin Aarts, builder; and the 1992-1993 John McGregor Secondary School girls' basketball team.
Parry, who attended the University of Minnesota on a tennis scholarship in the late 1990s and represented Canada internationally, said he was happy to share the experience with his family.
"Our two girls especially are at an age (six and four)  where they are comprehending what is going on and why we're doing this," he said. "We got a chance to talk about it a little bit and how Daddy used to do some different things than a lot of people and how this is a result of working hard."
Aarts, who helped found the Chatham Youth Soccer Association in 1975 and still coaches the Chatham Express senior team, said he had mixed feelings about being inducted.
"I'm involved with a group of people and a number of groups, and I'm just one of many," he said. "It's gratifying to have been selected for this, but on the other hand we have so many people that are deserving every bit as much."
Representing her late husband, Norman, Elaine Morris said her husband was a well-respected baseball coach with Chatham Minor Baseball, winning several provincial championships.
"It is nice that he's being recognized, but he said of the kids he coached back then, 'Nowadays still come up to me, respect me and call me coach,'" she said. "He said that meant more to him than any awards could ever have."
Bob Gilbert attended the ceremony on behalf of his late grandfather Peter, who curled competitively for 59 years, and in 1953 at the age of 71 became the oldest player ever to compete in the Canadian championships.
"I think it's wonderful that they recognize him for establishing the curling club and helping establish it," he said. "It would be a tough thing sell in those days to have a curling club in a small community."
The 1992-1993 OFSAA "AA" gold-medal-winning John McGregor Panthers girls' basketball team compiled a 36-4 record in their championship season.
"We had a lot of fun," said Michelle Willemsen (Dehaan), the co-captain. "I knew we were making some history in Chatham winning an OFSSAA gold medal back-to-back. We keep in touch through Facebook, but I don't get to see them often, so I'm really excited."
The committee also recognized two honoured members of the Hall of Fame, Wilson Leyte and David Allin, who both died earlier this year.
Comments
comments