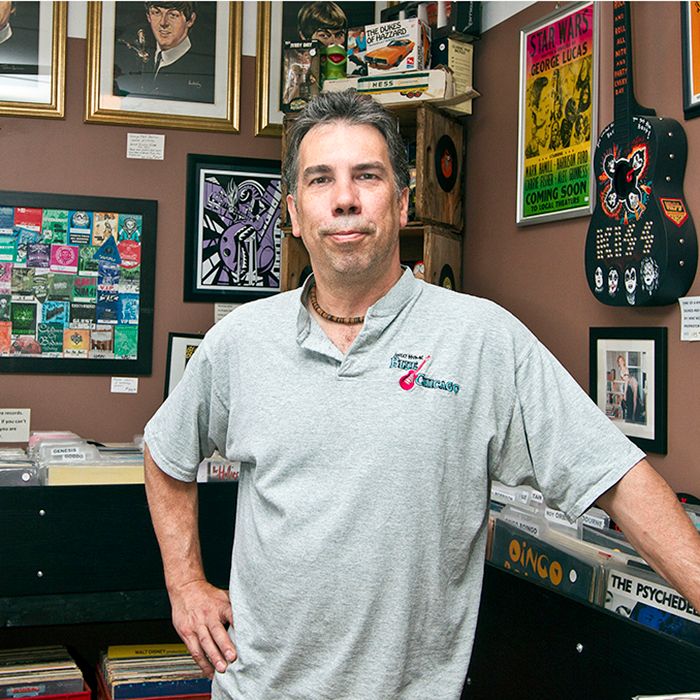 Mike Nicholson was not sure what he would end up doing after Chatham's Navistar International truck assembly plant shut its doors for the last time in 2009.
After working at the Richmond Street location for 21 years, Nicholson looked at his options and took a gamble, opening his own business, The Vinyl Room, on Queen Street more than two years ago.
Tucked away in a small building that used to be a gas station decades ago, it's what is inside that is the real interest for vinyl enthusiasts — rows of classic records, a variety of cult movies and pop culture memorabilia.
Nicholson first got the idea for his shop from his own collection of music and antique toys, which he started approximately seven years ago.
"I thought about it and I wasn't sure I wanted to do this," said Nicholson. "I got the idea that I could try it, found this little spot and gave it a shot."
Since opening, Nicholson has realized his business is one-of-a-kind in the area, noting it has been eight to 10 years since Chatham has had a place to buy records.
Even with the recent resurgence of interest in vinyl, Nicholson prefers to keep his store's collection full of classic albums.
"I look for stuff that someone might appreciate," said Nicholson.
Nicholson – whose first record he owned was by Alice Cooper, an artist he incidentally went to see perform at Caesars Casino in Windsor recently – believes there's a special quality about vinyl that CDs can't touch.
"I think they have a nicer, warmer sound," he said.
He also believes listeners tend to pay more attention to a vinyl album because they have to be invested to physically flip the record over to hear more.
While Nicholson admits he's not getting rich from the business yet, he's having fun being his own boss and gets new customers each week who discover The Vinyl Room for the first time.
"They look around because it's a lot to take in and they like it," said Nicholson.
It's only when several shoppers are in the building that Nicholson says it gets a little crowded; otherwise it's the perfect size for himself.
With thousands more records ready to be added to shelves, Nicholson said he attains his items from anywhere and everywhere – from record shows and personal calls to buying from private collections.
With experience in the business, Nicholson predicts vinyl will stand the test of time reminding everyone, "A record skipping is still not as annoying as a CD skipping."
Comments
comments