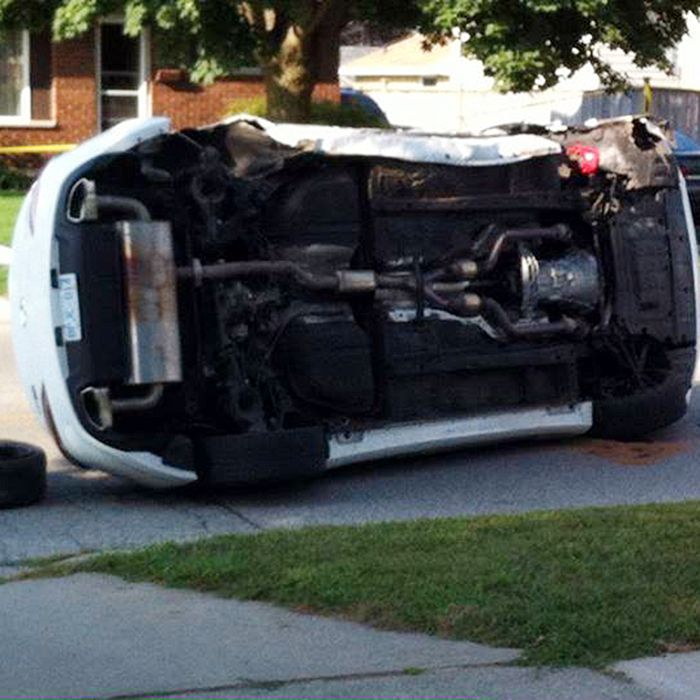 A young man remains in critical condition in hospital while another faces a slew of charges following a weekend accident in Chatham.
Police say the accident occurred around 2 a.m. on Michener Road when a Hyundai Genesis left the road, hopped a sidewalk, took out a hydro pole, plowed through a green hydro box, flipped over and came to rest on its side facing the opposite direction it was travelling.
The five-seat vehicle was carrying six people, police say. One passenger, a 19-year-old man, was ejected and suffered life-threatening injuries. He was later transported by air ambulance to London and underwent emergency surgery.
Another 19-year-old man suffered a broken arm, while a 20-year-old female passenger had a broken collarbone. The other occupants of the vehicle were treated for minor injuries and released.
Chatham-Kent police say the vehicle suffered about $40,000 damage.
Entegrus crews were on scene into the evening repairing the hydro box and streetlight.
A 21-year-old Chatham man faces three counts each of impaired driving causing bodily harm, dangerous driving causing bodily harm, criminal negligence causing bodily harm, and operating a motor vehicle without insurance, as well as driving a vehicle with no validation plate.
Police released him and he has a future court date.
Comments
comments