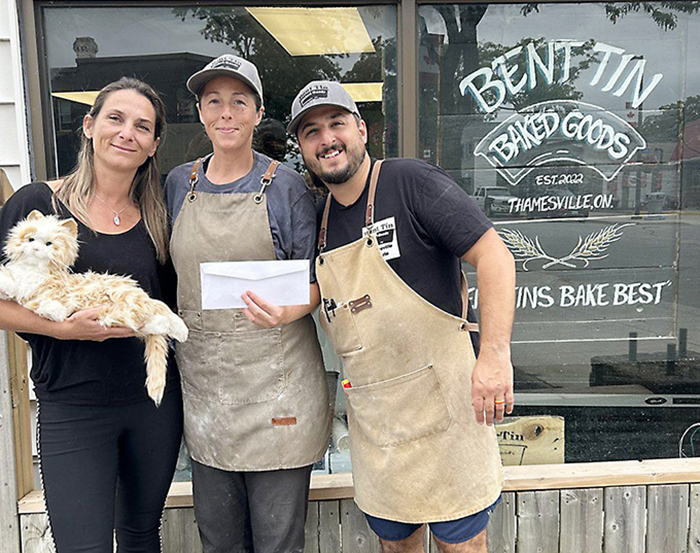 By Michael Bennett
Local Journalism Initiative Reporter
The Ridgetown Independent News
A new Thamesville bakery cooked up an idea leading to more than100 kittens and cats being adopted in August.
And on top of that, owners of Bent Tin Baked Goods donated $13,860 to the Chatham-Kent Pet and Wildlife Rescue.
Misty and Mike Bass, who share a deep love for animals, came up with the idea to sponsor an adoption initiative for August through their Bent Tin Baked Goods.
Citizens could adopt a kitten or cat for $50, as the Bass family covered the rest of the $160 adoption fee. This led to 126 kittens and cats getting adopted during the month – and the Bass family happily paid the remaining $110 fee per cat for a total donation of $13,860.
The Bass' daughter Ava, 11, also contributed financially by donating more than $200 she made in a lemonade stand in front of the family bakery earlier this summer.
"We thought this was just a fantastic idea," said Myriam Armstrong, PAWR director. "When I told them how many cats were adopted, they were blown away and happy to follow up on their promise."
"We are immensely grateful for their aid. Their commitment to the welfare of animals is truly remarkable," Armstrong said of the Bass family.
The Bass family moved to the Thamesville area two years ago and opened their Bent Tin Baked Goods at 87 London St. last November.
One of the first things the family did when they arrived from Alberta – even before looking for a site for their business – was look into local cat shelters where they could volunteer their time, as they did in Red Deer. This led the family to the PAWR animal shelter in Chatham, where they performed a number of voluntary duties.
The Basses were so shocked at the number of cats that come into PAWR regularly that they began fostering felines at their rural Thamesville home to ease the burden on the shelter.
The Basses built 15 catios, enclosed patios where cats can live and move about freely.
They have fostered as many as 60 cats at a time.
When both the shelter and their own catios were maxed out, the Basses came up with the idea for the August adoption campaign.
"Just knowing there was no more space at the shelter and knowing we couldn't take in anymore is ultimately why we decided to sponsor adoptions," Misty said. "We thought more people could possibly afford to adopt and give cats a good home, and we would kick in the remainder of the fee."
Along with giving so many cats a loving home, the Basses' adoption campaign also helped lighten the burden on the shelter, allowing staff to focus on their mission of rescuing and caring for more needy animals.
"This partnership not only resulted in many adoptions but also raised awareness about the importance of adopting shelter animals," Armstrong said.
Armstrong said the shelter handles about 3,000 cats a year, as the expense of housing as many as 300 at a time, along with the cost of vet care, has skyrocketed.
"Trying to keep up with the demand and vetting has gotten so expensive that lowering the adoption fee is not an option," she said.
Any business or individual interested in this heart-warming sponsorship initiative and helping more local animals find homes can stop at the PAWR animal shelter, 405 Park Ave. E. in Chatham (226-996-9969 or visit www.pawr.org for more information.)
PAWR also welcomes anyone interested in adopting a pet to visit the shelter or go online to view the cats and kittens still in need of loving homes.