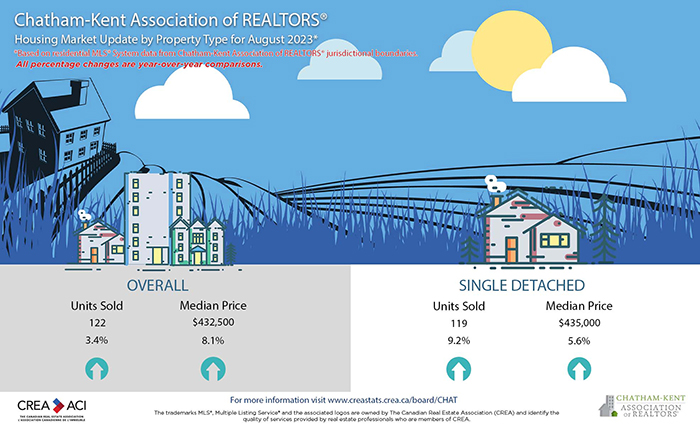 It's not much, but local realtors will take it.
Home sales in August were up a modest 3.4 per cent from the same month in 2022, according to the Chatham-Kent Association of Realtors (CKAR).
That percentage is in reality four additional sales, up to 122, compared to last August.
"Home sales recorded a small year-over-year gain in August as the monthly recovery has stalled and demand is basically moving sideways at the moment," Matt Bechard, president of CKAR, said in a media release.
However, prices are up. The average price of homes sold in August 2023 was $468,100, up nearly 11 per cent from August of 2022.
"New listings are still coming in at supportive levels but the market has gradually tightened. Prices are also recording stronger gains, with average price levels now back up to the highest readings since last July," Bechard said.
In terms of home sales for August, CKAR numbers show that they were down 11.6 per cent compared to the five-year average.
On a year-to-date basis, home sales totalled 839 units over the first eight months of the year. This is down 14.7% from the same period in 2022.
As for the price of homes sold, CKAR figures indicate the average prices for the first eight months of this year was $433,374, down about 10 per cent from the same period in 2022.
New listings were down in August, to the tune of about 12 per cent, compared to August of 2022. There were 210 new residential listings last month.
Despite the decline, new listings were 4.6 per cent above the five-year average and about 12 per cent above the 10-year average for the month of August.
Active residential listings numbered 386 units on the market at the end of August, a small gain of six listings from the end of August 2022. However, active listings haven't been this high in the month of August in more than five years.