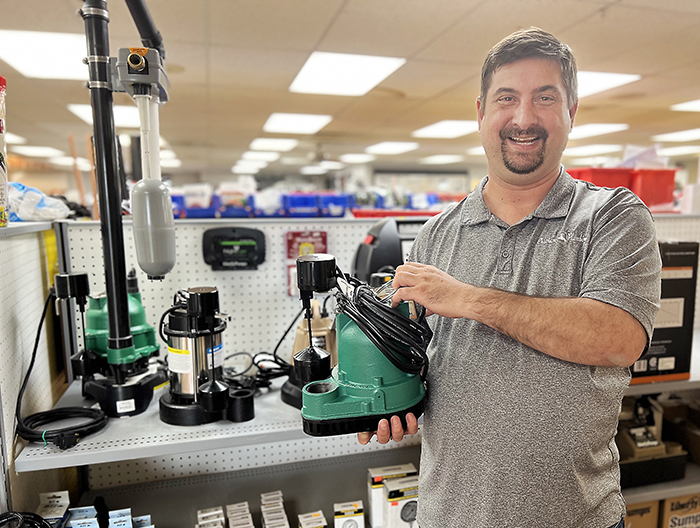 Business relied on honour system after the storm
The Aug. 24 storm brought us some of the worst of Mother Nature, and some of the best of people.
Look no further than Chatham Plumbing where owners Jeremy and Meghan McTavish quickly realized the need and worked to accommodate customers, handing out 17 pumps, despite the fact they had no power to complete any transactions.
As of the morning of Aug. 29, every single person had returned to the small business and settled up their account, Jeremy said.
He and Meghan and their two children lived through the storm just like the rest of us. They live atop the Richmond Street store.
"Our power went out about 11 p.m. (Aug. 24). We came down into the store because we got the tornado warning like everyone else," he said.
And the next morning, the power remained off.
"I went for a coffee run to try to find a Tim Horton's that was open. I saw the devastation around town," Jeremy said. "I figured there'd be a few people pretty down on their luck."
With that in mind, he returned to the store and opened both entrances to let in as much light as possible. They added candles at the counter.
"We had quite a few stragglers coming in looking for pumps," he said. "We had a couple of elderly people who came in and had been bailing their sump all night.
"On the honour system, between our regular sump pumps and water backup pumps, we handed out 17. We took people's names and phone numbers down."
This all took place in a four-hour window on the Friday before the power was restored by early afternoon.
Jeremy said the Chatham-Kent support system of neighbours helping neighbours remains strong, adding many of the people who came in were accompanied by a neighbour.
"The amount of people we saw coming in here with their next-door neighbour, helping out, was kind of cool," he added. "Almost everyone came in pairs, helping out each other."
Chatham Plumbing is no stranger to lending out items to help folks. Jeremy said it's something they do every week.
"If they need a tool for 30 minutes, they shouldn't have to buy one. I can just lend them ours," he said.
Many of the plumbers who do business with Chatham Plumbing do the same.
"They help people out with items they have salvaged from another job," he said.
One of Chatham Plumbing's suppliers helped Jeremy out as well. Chatham Plumbing had sold out of three of their most popular pumps on the Friday, so he drove to London and met with the supplier.
"He loaded up my truck and I brought them back and sold them out on Saturday," Jeremy said.