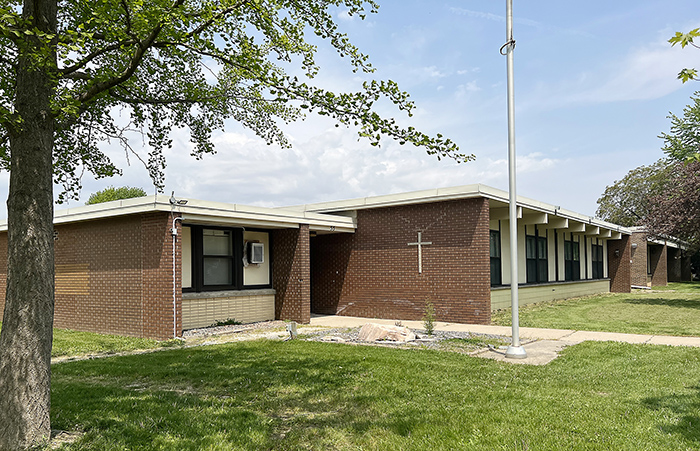 By Pam Wright
Local Journalism Initiative Reporter
Regroup.
That is what officials are planning to do after the federal government turned down an application from the Municipality of Chatham-Kent to repurpose the former St. Agnes School in Chatham into a 95-unit supportive housing complex.
A joint partnership between the Hamilton-based charity Indwell and the municipality, the development would have seen a $14-million commitment from the Canadian Mortgage Housing Corporation's (CMHC) Rapid Housing Initiative, on top of a $9.7-million promise from Chatham-Kent.
Indwell owns the vacant school property, having purchased it from the St. Clair Catholic District School Board in 2021 for $635,000.
Graham Cubitt, director of projects and development for Indwell, told The Voice that while the agency is "perplexed" by the CMHC decision, it doesn't mean the Christian charity is going to abandon the project.
"We're not walking away.  We just have to figure out how to move forward," Cubitt said recently. "We've been through this before. Sometimes if you don't succeed on your first try, you just have to try again. The homelessness issue isn't going away."
Cubitt said the municipality put together a solid proposal for the project, noting the application process involves "hundreds of hours" of work by professionals.
"Chatham-Kent has made a number of positive moves and good decisions," he said, with the municipality taking a holistic approach to the homelessness issue.
According to Cubitt, Indwell is in a "stable" financial position and is able to maintain the Croydon Street property while leaders pivot to come up with a new plan.
"We don't have to have a fire sale," Cubitt added.
The Indwell supportive housing model is catching on, providing much-needed supportive housing in various communities in Ontario. It currently provides housing to 1,100 tenants and opened a housing complex for 45 people in St. Thomas earlier this month. Indwell creates homes for people who are hard to house, including many who face addiction and mental health issues. Along with creating a private apartment space for clients, supports are also available on site, including services, such as counselling and night-time security.
Indwell made its initial ask for municipal funding in January. Council approved its $9.7-million funding commitment to Indwell in March, giving the nod to a 95-unit build, despite some councillors and neighbours objecting to the project, saying it was too large for the area and needed to be scaled back.
The Croydon Street project wasn't the only Indwell effort turned down by the federal government. An application from the City of London for $13.5 million to develop a former children's hospital into supportive housing was also refused by the CMHC.
April Rietdyk, general manager of health and human services, said the need for such a project has not gone away.
"We are disappointed that Chatham-Kent was not successful in the RHI submission with Indwell. We understand that the need for housing is impacting communities across the country. Safe, accessible, and affordable housing is a basic human right," she said. "Chatham-Kent will continue to work with our community partners, developers, and other levels of government to increase affordable housing for Chatham-Kent."