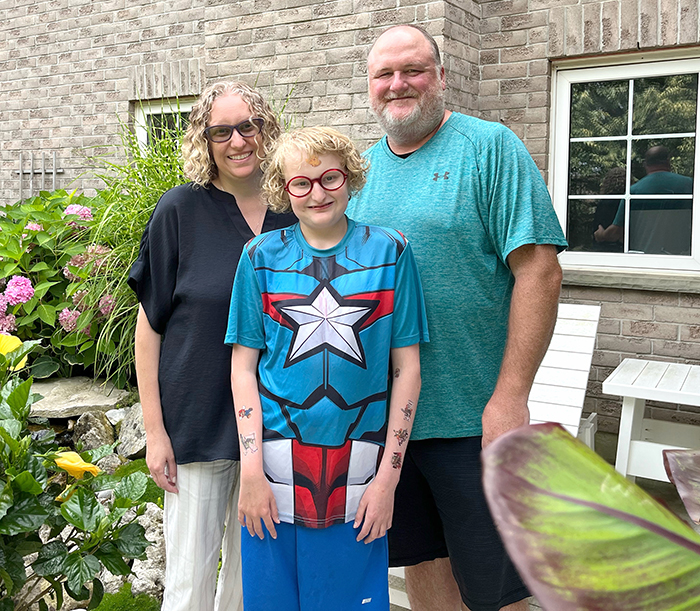 These days, Chord Jaques is a typical 10-year-old boy.
And his parents, Tara and Ben Jaques, couldn't be happier.
It wasn't always this way, as Chord suffers from a rare illness, Alagille Syndrome (ALGS).
For the Jaques, their "normal" came in the form of sleepless nights, with Chord suffering endless itching without relief.
ALGS affects about 1 in 30,000 infants. Due to an impaired liver, children with the disease can't process bile. Instead, it is absorbed into the skin, which causes uncontrollable itching and burning.
Tara said a new medicine, Livmarli, has worked wonders with Chord.
"His liver and heart have plateaued for the past couple of years. The new medicine has taken the itch away."
Before that, Chord was in constant discomfort.
"He was itchy constantly. He would scratch and dig. He was consumed by it," his mother said, but there was no relief. "His itch was internal. No matter how much he scratched, he could never get to it."
This destroyed any quality of life. Tara said she and Ben had difficulty getting Chord to eat, or even sleep.
"He rarely settled. We were constantly trying to soothe and distract him. It was always there," she said of the itching brought on by ALGS. "It wasn't something we'd wish on anyone. Ever. You definitely feel helpless."
The Jaques managed as best they could. But reaching out to talk to family and friends about the strange disease was not easy.
"We had people we'd talk to about it, but unless you were with him, and going on two or three hours of him screaming and scratching and he's got himself covered in blood, you really can't understand," Tara said.
People who did get it were families of other ALGS-afflicted kids. Tara said they met others when they attended an ALGS symposium in the U.S.
A bond developed.
"We've stayed close to families as he's grown up. We have Zoom calls with them," Tara said. "Chord still talks to them on the computer."
As well, there is a group of ALGS families in Ontario. Tara said they try to get together annually.
"It's very comforting when you get together with people who understand."
A child who missed school because he was so exhausted due to ALGS is "not missing out on anything anymore."
Chord benefitted from being part of the clinical trials for Livmarli, and just last month, Health Canada approved the drug for treatment of ALGS.
"We're still so thankful," Tara said.