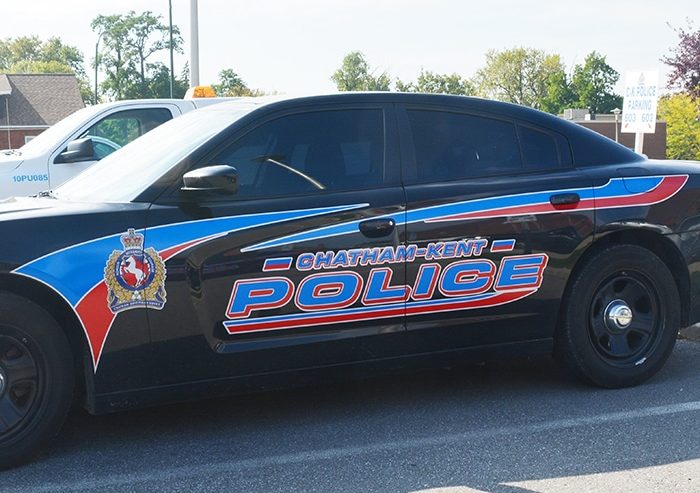 Taser used in arrest
A Walpole Island man faces charges following a family dispute early Thursday morning in Wallaceburg.
Chatham-Kent police got the call at 1:47 a.m. to an incident on Base Line Road in Wallaceburg. 
During their investigation, it was discovered that the man involved in the incident had arrived in an intoxicated state at the residence. 
Subsequently, a verbal argument ensued between the man and the homeowner, which eventually escalated into a physical assault, police say. 
Officers attempted to de-escalate the situation, which included utilizing a conducted energy weapon to safely apprehend and take the man into custody. 
A 22-year-old Walpole Island man was charged with assault.
Warrant arrest
A local man faces multiple charges in the wake of a late-July brush with the law. 
On July 26, officers responded to a report of a possible impaired driver in a parking lot on St. Clair Street in Chatham. Upon arrival, the police located the vehicle and attempted to initiate a traffic stop. 
However, the driver disregarded the officer's instructions and accelerated through the parking lot, heading directly toward an officer who was on foot, police say. The officer had to quickly move out of the way to avoid being hit by the vehicle. 
The vehicle continued to flee eastbound on Pioneer Line, eventually leaving the roadway and ending up in a ditch. The driver then attempted to escape on foot but was apprehended by bystanders. 
Due to his injuries sustained during the incident, the man was taken to the hospital for medical treatment.
During the subsequent investigation, the officers discovered that the vehicle had been reported stolen from Leamington. 
Additionally, it was revealed that the man was under a probation order from British Columbia, which included specific conditions prohibiting him from operating a motor vehicle without the owner's consent, as well as from possessing or consuming alcohol, drugs, or any other intoxicating substances that were not prescribed to him.
 On Wednesday morning a 25-year-old Chatham-Kent man was arrested and charged with multiple offences. These charges included possession of stolen property, assault with a weapon, fleeing from a peace officer, dangerous driving, operating a motor vehicle while prohibited, impaired driving, and two counts of failing to comply with a probation order. The man was transported to the police headquarters and held pending a bail hearing.
Domestic charges
A Windsor man faces assault charges following a domestic dispute Wednesday night near Tilbury.
At 10:33 p.m., police responded to Dashwheel Line in Tilbury East Township for a domestic disturbance.
Upon arrival, the officers learned a verbal argument between the man and the woman became heated. The situation escalated when the man started physically pushing the woman and forcefully slammed a door on her leg, police say. As a result, the woman sustained minor physical injuries.
A 31-year-old Windsor man was arrested and charged with assault causing bodily harm.