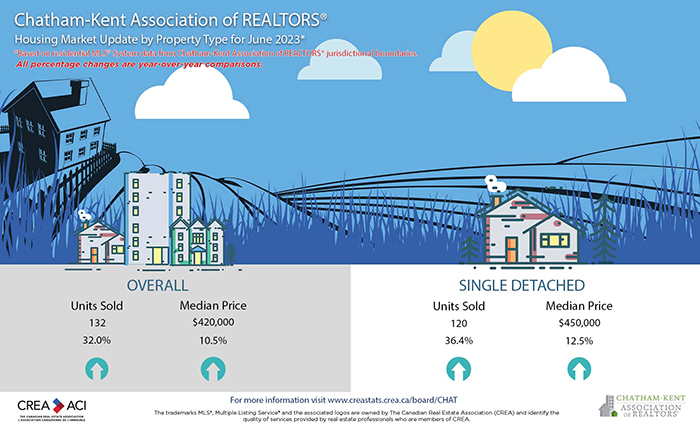 A month ago, the president of the Chatham-Kent Association of Realtors (CKAR) essentially said to wait and see, that the market was about to rebound.
Matt Bechard was correct.
After months of lower sales compared to the same period in 2022, June showed a significant uptick in home sales and slight increase in the average price of homes sold.
A total of 132 units changed hands last month, up 32 per cent from June of 2022.
The average price of homes sold in June 2023 was $440,471, up modestly by 2.3 per cent from June 2022.
"Sales activity posted the first year-over-year gain since February 2022 as the recovery in demand continued along in June, with figures for the month almost back in line with their longer-term averages," Bechard said in a media release.
The improved sales in June were still about 2.7 per cent below the five-year average for the month of June, however.
Bechard said an ongoing infusion of new listings has helped with the upsurge in sales.
"The recovery in sales has been helped along by above-average levels of new listings, something that other areas in the province have been lacking. However, sellers are not shying away from our local market and continue to fuel the rebound in sales activity," he said. "On the price side we're seeing a steady upward trend but not quite at the record levels from last year."
The year-to-date average price for a home sold was $429,604, down 12.3 per cent from the first six months of 2022.
The number of new listings decreased by 7.4 per cent from June 2022. There were 239 new residential listings in June.
New listings were 11.4 per cent above the five-year average and 16.1 per cent above the 10-year average for the month of June.