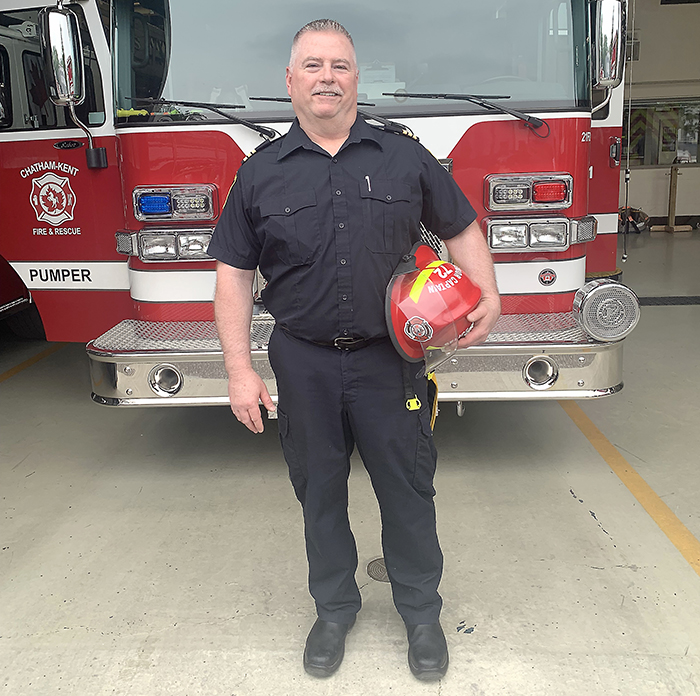 With three and a half decades as a firefighter, Capt. Joe Zink has pretty much seen it all.
Zink celebrated his last day as a Chatham-Kent firefighter recently, working a final 24-hour shift before hanging up his bunker gear for good.
He spent some of that final shift accepting well wishes from some familiar faces, as the service held a meet and greet of sorts for Zink.
"A lot of people came out and I've really enjoyed it," Zink told The Voice. "I have seen a lot of old faces that I haven't seen for a number of years."
During his time as a local firefighter, Zink said he has seen a great deal – the good, the tragic and the outright strange.
"One call we had, the neighbours were concerned. It ended up the people had all kinds of animals inside," he said of a home. "They had reptiles and dogs and cats. It was kind of strange when you shine a flashlight in a window and you see something move and it's an aquarium full of snakes."
As for the good, Zink said helping people get through tough times is rewarding.
"Usually when we're responding, it's on people's worst days. When we can help them out, and they're so thankful, I take that as good," he said. "That makes the tough days a little better. You enjoy the days when you can help people."
As Zink mentioned, there are also the bad days; days of tragedy.
"We've had, unfortunately over my career, several bad car accidents. It gets tough," he said, adding the mutual support among firefighters is crucial. "All the guys are really good, they're willing to talk out things, which helps."
Then again, fellow firefighters can feel like brothers or sisters.
"We spend as much or more time together than we do with our own families. You become a very tight knit group. You become family," Zink said. "We share good and bad times. I don't know if you could find another job like it."
Zink has also seen a great deal of change over the past 35 years, including in basic equipment.
"When I first came in, there were guys who still wore rubber boots and coats. Now we're in full bunker gear," he said. "The health and safety side of it has improved greatly."