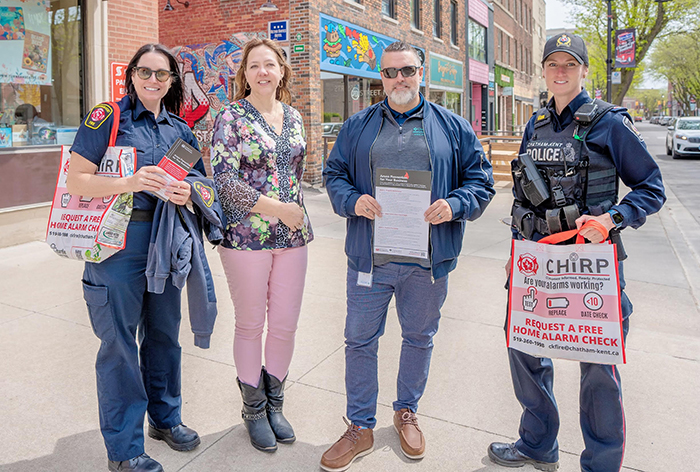 In the wake of recent arson efforts in the municipality, members from Chatham-Kent fire & rescue, Chatham-Kent police, economic development and the Historic Downtown Chatham BIA hit the streets of downtown Chatham and Wallaceburg recently to promote a new program dedicated to arson prevention.
The Arson Prevention for Your Business program is aimed to educate business owners about fire prevention – specifically arson, which is often a crime of opportunity, making it important for businesses to take proactive steps to address the risk.
"A fire at any business can greatly impact operations and is a setback for owners and the surrounding community," Fire Chief Chris Case said in a media release. "This can be even more devastating when the fire was intentionally lit.  Our goal is to protect the core of our communities, by saving lives, protecting livelihoods and we continue to explore partnerships to support our businesses."
The program outlines simple steps owners and their staff can take, including property maintenance, keeping combustibles out of sight and practicing fire safety.
Other communities will be visited in the coming weeks.
For more information on how to protect your business visit Prevention for Your Business (chatham-kent.ca).
Super community support at newLIFE
newLIFE Thrift Store may raise funds for Chatham Christian School, but this little gem of a location on Queen Street in Chatham has still managed to donate more than $100,000 back into the community in three years.
Did we mention it opened in the middle of the pandemic? The store first started operations back in June of 2020.
Ten per cent of profits head back into the community each month.
All staff at the store are volunteers.
The latest organization to benefit from newLife's efforts is the Conductive Education program, which is associated with the Optimist Club.
newLife is located at 202 Queen St. in Chatham.
Ride for a Reason supports youth soccer
Uride's Ride for a Reason, part of its ongoing Good Deeds Program, recently raised more than $10,000 across the country.
The company asked users on June 19 to pledge 10 per cent of their fare price to go to help youth soccer organizations.
Here in Chatham-Kent, the Chatham Youth Soccer Association youth benefitted.
"Cities rallied behind us on June 19th, showcasing the power of community spirit," said Cody Ruberto, founder and CEO of Uride, in a media release. "Our riders have not just helped to support local soccer organizations, but they've contributed to fostering teamwork, sportsmanship, and a lifelong love for sport among young athletes in Chatham-Kent."
The keys to success
All-Risks Insurance's Rob van Deel Piepers held a fun contest during the recent Rims and Ribs event.
Contestants entered to guess the number of keys in a jar.
Adult winner Blake Hunter was able to donate $100 to his favourite charity, while Under-12 winner Luke Dehaan walked away with a crisp $50 bill.
For the record, the jar held 311 keys. Blake guessed 312 and Luke guessed 305.
Small plates
Gentry Manor's Small Plate restaurant is hosting a Farm to Table event July 8.
Tickets for this elegant, locally sourced meal are $130 per plate and can be obtained by calling 519-351-5600.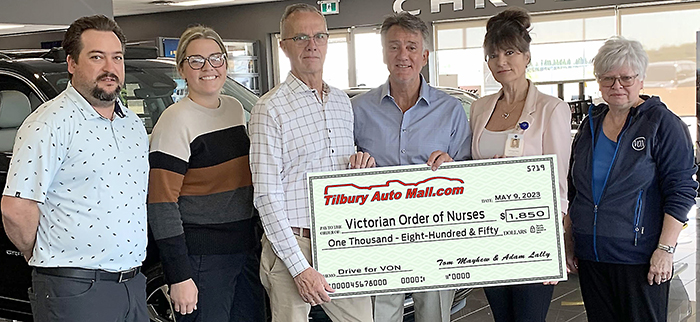 Drive for VON
The Tilbury Auto Mall –Tilbury Chrysler, Lally Ford and Lally Chevrolet – recently announced the successful completion of the Drive for VON initiative.
The event, which saw the dealerships donate $50 per car sold, raised a total of $1,850 for the charity.
The Tilbury Auto Mall is thrilled with the success of the event and is now passing the baton to the next trio of dealers ready to take up the challenge.
"We are so pleased with the incredible corporate citizenship shown by the Tilbury Auto Group in joining the Drive for VON. The funds raised will support critical local programming, such as our Kids' Circle Child Bereavement Support program," JoAnne Dawson, board chair of VON Chatham-Kent said.
Drive for VON organizers are currently looking for interested auto dealers to participate in the next running of the event, scheduled for September this year.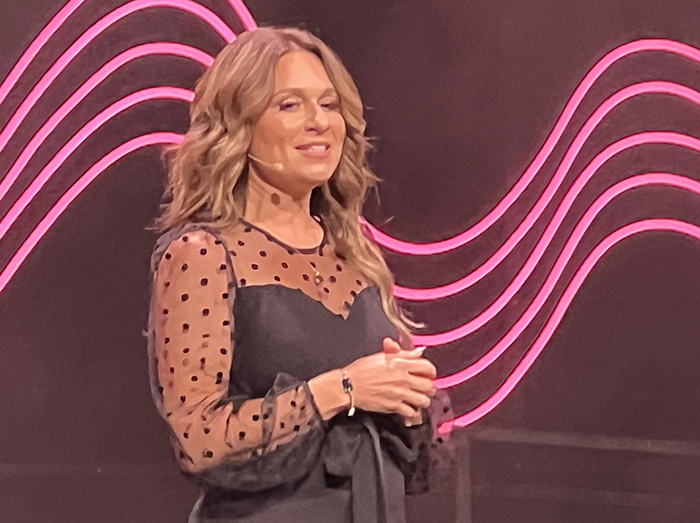 Local woman shares success story at global convention
Jennifer Parmer of Chatham was recognized for the success of her entrepreneur-led health and wellness business during Plexus Worldwide's 2023 One Convention in Nashville recently.
Parmer was among an elite group selected to share business strategies, product insights, and personal experiences with more than 6,000 thousand independent sales representatives to help
She shared her story of how Plexus has provided them with a path to define their own successful health and wellness business through hard work and shared their expertise.
Tea time
Mrs. Bell's Tea Room has a couple of fun days for patrons coming up this month.
On July 13, it's Garden Tea Party Day. Wear a hat and receive a flower.
Later in the month, on July 27, for Peach Picnic Day, wear peach-coloured clothing and enjoy sweets.
Business Voice is a bi-monthly column in The Chatham Voice that highlights some of the achievements made and efforts underway in Chatham-Kent's business community. Send your information to bruce@chathamvoice.com.