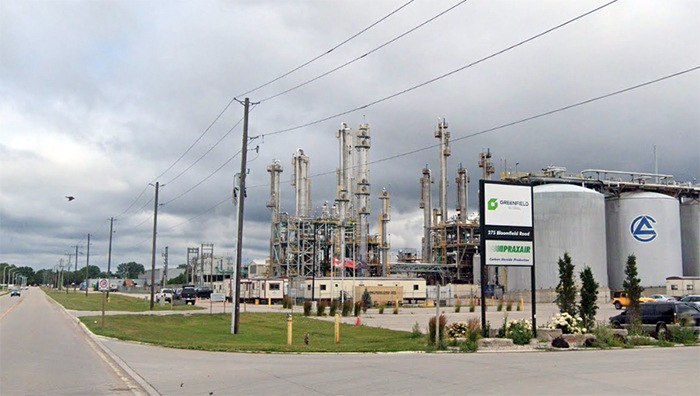 By Pam Wright
Local Journalism Initiative Reporter
Chatham-Kent is moving closer to a project that's a coup for both municipal taxpayers and the environment.
At a recent council meeting, C-K's chief financial officer provided an update on the proposed Waste to Energy project that will see an anerobic digester plant convert organic waste into reusable fertilizer and renewable natural gas.
A partnership between the municipality, the Public Utilities Commission and Greenfield Global, the new plant will be constructed at 175 Bloomfield Rd. in Chatham, adjacent to Greenfield's ethanol plant and a PUC property.
According to Gord Quinton, the state-of-the-art facility will convert wastewater sludge from the wastewater treatment plant and organic waste from Chatham-Kent's future green box program. Quinton said an organic green box program for homeowners will eventually be mandated for all of Ontario.
When the anaerobic digestion conversion plant is operational, Quinton said it will process between 90,000 to 120,000 tonnes of industrial, commercial and institutional organic waste each year. The plant will produce digestate, which when dewatered and dried, creates fertilizer for agricultural use, as well as biogas, which will be upgraded and injected into Enbridge's main pipeline.
It takes between 20 to 30 days for the organic waste to be broken down by bacteria and the facility design ensures there is little to no odour emanating from the site.
"We see this as a win-win on all sides of this project," Quinton told council. "Chatham-Kent and Greenfield both share a belief in the value of this project and it supports a circular economy and long-term sustainability goals."
Quinton said the project will generate revenue for the municipality, offsetting taxes and PUC rates, noting neighbouring municipalities may want to use it as well.
"Council has asked us to be creative in finding new sources of revenue and we think this fits the bill," Quinton said.
He also pointed out that the project is in keeping with government initiatives to reduce carbon emissions and will dovetail with Chatham-Kent's future Climate Change Action Plan.
Chatham's plant will be modeled on a similar Greenfield Global ethanol plant in Varennes, Que., that's been running with great success. Quinton said a crew from Biogaz Quebec, that runs the SEMECS plant, will aid in the start-up and running of the Chatham-Kent facility, allowing the municipality to take advantage of the corporation's expertise.
In May, Mayor Darrin Canniff, three councillors and administration toured the Quebec facility to get a better understanding of the process.
Following the presentation, council approved investing $1.3 million on the project, which represents about 40 per cent of the cost, to carry out further engineering designs and to determine final costs. Some further legal work also needs to be completed.
Chatham-Kent's total equity investment is estimated to be between $15 million to $20 million all told.
Construction of the plant will create many jobs, Quinton added, and when complete it will provide around 20 full-time positions.