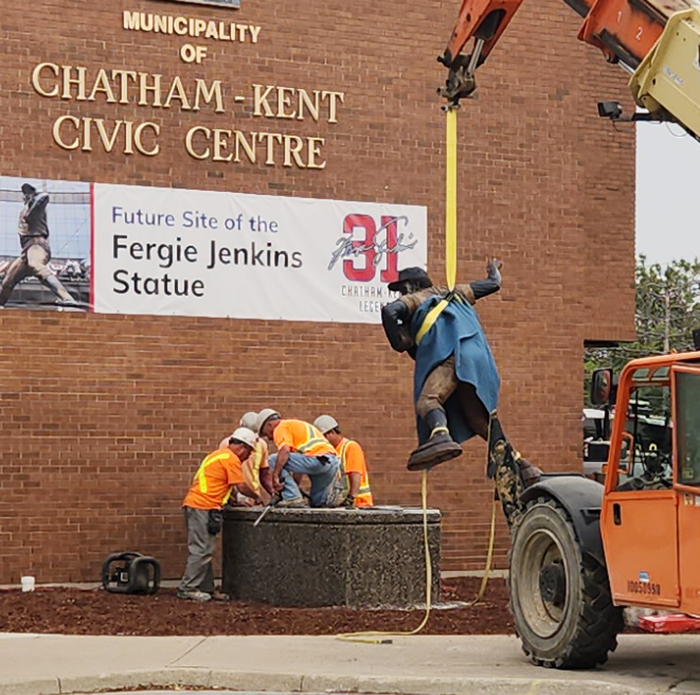 Statue to be unveiled, celebrations to be had
The final adjustments are being made for Saturday's celebrations, but organizers can't wait to unveil a statue of baseball legend and Chatham native Fergie Jenkins outside the Civic Centre.
Brad Pogofsky, Jenkins' business manager, said the Baseball Hall of Fame pitcher is also greatly anticipating the event.
It all takes place at 1:45 p.m. Saturday in front of the Civic Centre on King Street West in Chatham. A nine-foot-tall statue of Jenkins, in mid-delivery of one of his devastating fastballs, will be showcased.
Pogofsky said the statue is identical to the one unveiled outside Wrigley Field in Chicago just last year.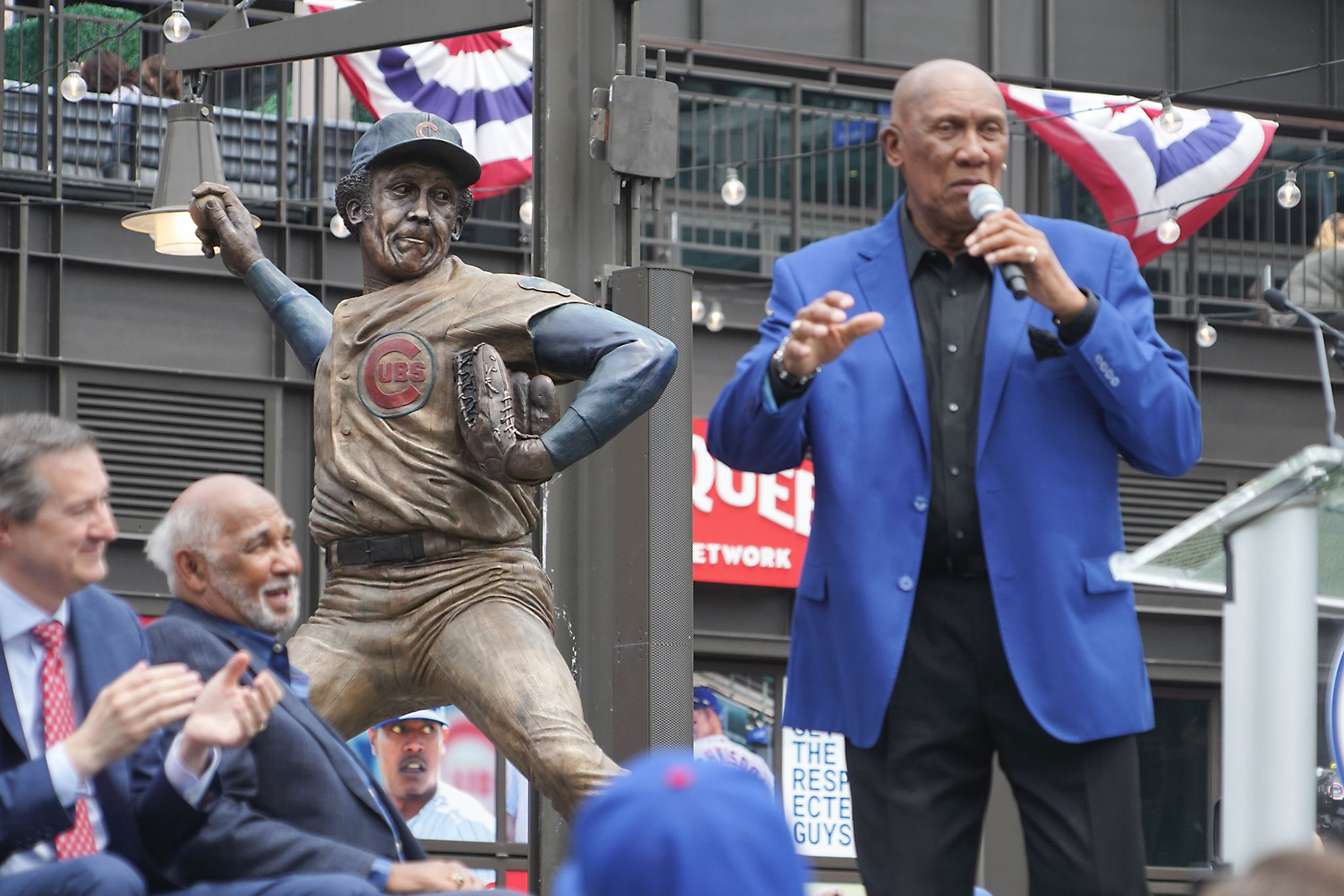 He said Chatham Mayor Darrin Canniff played an integral role in making it happen.
"The mayor absolutely crushed it," Pogofsky said of Canniff's appearance at the unveiling in Chicago. "He was sitting next to (Cubs owner) Tom Ricketts. He leaned over and said, "What do you think about us having a statue like this in our city?' Ricketts said to go ahead."
Canniff said once he received approval from the Cubs, he sought out donors to pay for the statue.
"We were able to induce people to donate the money to make the statue happen," he said.
The statue that will sit here in Chatham is made from the same mould and by the same artist – Lou Cella – who did the original one for the Cubs, Pogofsky said.
Jenkins can't wait for Saturday.
"I'm pretty excited to have a statue in my hometown. It's very humbling, and to have my children be the ones to unveil it makes it even more special," he said.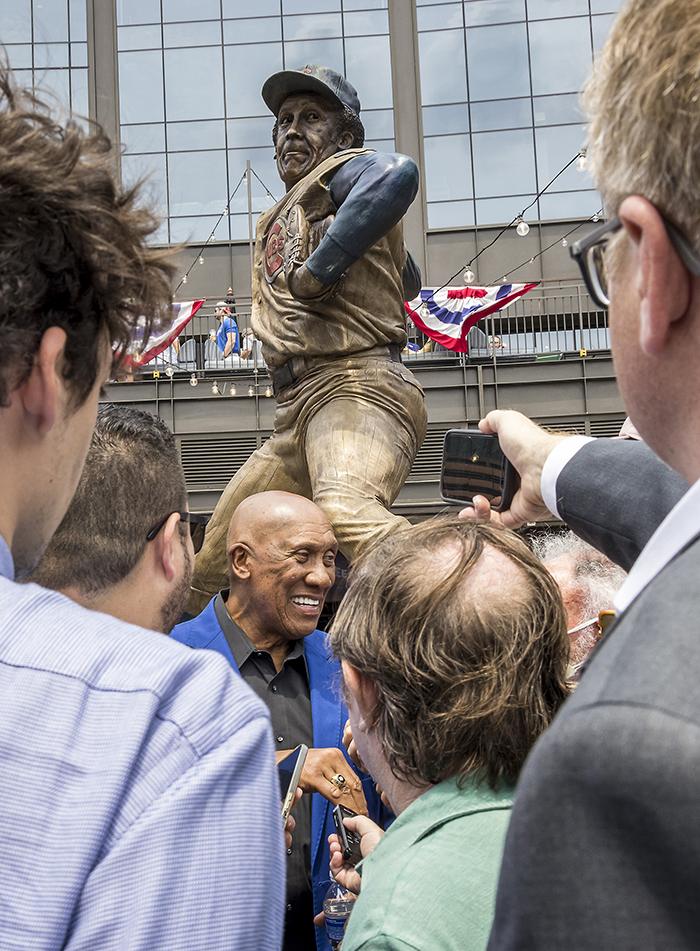 Kim and Kelly Jenkins, his daughters, both live in Chatham.
Canniff can't wait for Saturday.
"What an exciting time for Chatham-Kent as far as to celebrate a pretty amazing guy. We needed to honour Fergie, and we need to honour a lot of other people," he said. "We'll be rolling out a Legends of Chatham-Kent program hopefully in the near future."
The Jenkins family and interested local residents won't be the only people on hand for the special occasion. Pogofsky said Canada's only other member of the Baseball Hall of Fame, Larry Walker will also attend the event.
Former Toronto Blue Jays outfielder Jesse Barfield is slated to attend as well. The Cubs will send representation too.
"We're hoping Mr. Ricketts will come," Pogofsky said.
Volunteers organizing the event and the after party at Sons of Kent have been busy in recent weeks.
While the main event takes place at 1:45 p.m. on June 10, there's a great deal going on, including the family friendly after party behind Sons of Kent.
"The big day is coming and we have some amazing activities planned for the after party," Jason King, executive member of the organizing committee, said in a media release. "Along with 300 Chicago Cubs Baseballs being given out to the first 300 kids, there is the First Ontario Family Fun Zone, the TekSavvy VIP area, and the First Choice DKI entertainment area."
Jenkins played in the major leagues for 18 seasons, from 1965-83, and was the first Canadian to win a Cy Young. He won 284 games and posted 3,192 strikeouts during his career.