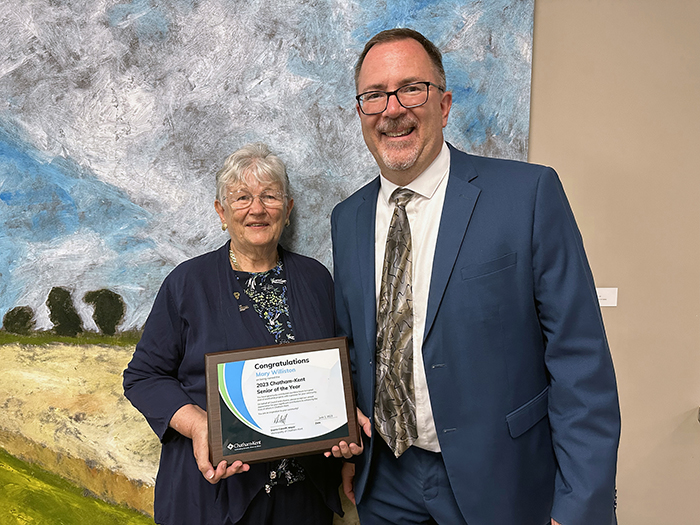 The matriarch of one of the most giving families in Chatham-Kent received recognition for her decades of helping others by being named C-K's Senior of the Year recently.
Williston, her late husband Phil, their children, grandchildren and even their great grandchildren have collectively donated 750 years to helping others.
Mayor Darrin Canniff said her efforts are impressive.
"We wanted to say thank you to Mary and recognize her and all of the older adults in Chatham-Kent who do so much for our community," he said in a media release.
Mary, 84, has been a community volunteer her entire life, especially with the Chatham Goodfellows, and continues to contribute to the community by devoting her time to several causes. She's been with the Chatham LaSertoma Club for more than five decades, where she's currently serving as president.
She has also been involved in programs, summer camps and after-school programs run out of the W.I.S.H. Centre.
Mary is one of 16 adults aged 60-plus honoured this year for achieving significant goals and making outstanding contributions as volunteers within Chatham-Kent.
More than 1,000 Chatham-Kent citizens have been honoured since the award presentations began in Blenheim 34 years ago.
Chatham Coun. Marjorie Crew, who is the Chatham-Kent Celebration of Older Adults committee co-chair, said all the honorees share an important trait.
"The many seniors who volunteer in Chatham-Kent, and in particular those we are honouring, view their status as a senior as an asset," she said. "They know the value of experience and they know they have a lot to give. They look at what they do as an ongoing gift to their fellow citizens. Their attitude is amazing and it's a real joy to watch what they can accomplish."
Last year's 2022 Chatham-Kent's Senior of the Year Josephine Richardson of Chatham has also been recognized by the province as Ontario Senior of the Year 2023 for Chatham-Kent.