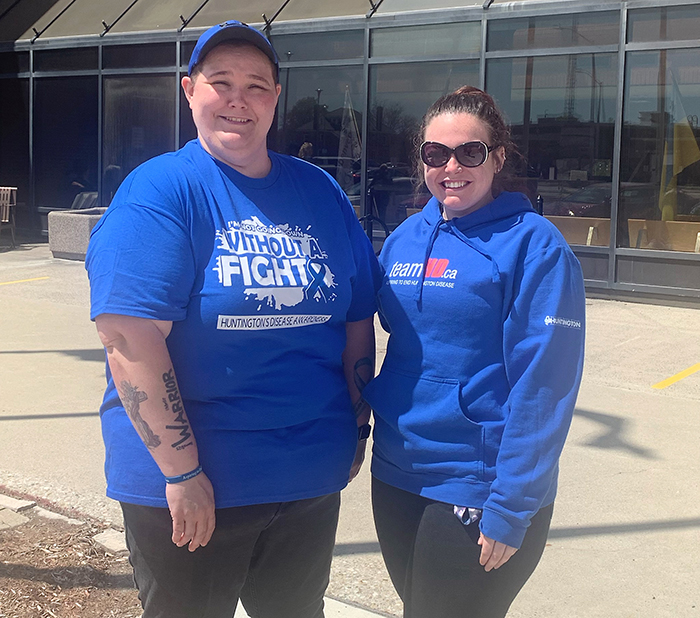 Rivait doesn't let her diagnosis slow her down
By Pam Wright
Local Journalism Initiative Reporter
Amanda Rivait truly lives one day at a time.
The 29-year-old carries the gene for Huntington Disease (HD) – a progressive fatal brain disorder that robs those afflicted of their speech and motor skills.
However, even though Rivait is showing signs, it isn't stopping her from living life to the fullest.
"I take life as it comes," the Chatham resident explained stoically.
Rivait, one of six children, found out she had the inherited gene five years ago. She lost her mother Donna White to the illness in 2021. Children with a parent who has HD have a 50-per-cent chance of inheriting the disease that affects one in 7,000 Canadians.
Last October, her Toronto neurologist diagnosed her with early symptoms, such as twitching in her hands, sleeping problems and pain and discomfort in her legs.
"They say it's like having ALS, dementia and Alzheimer's all in one," Rivait explained. "It attacks everything."
As HD progresses, physical, emotional and cognitive functioning are increasingly affected, with the person less able to control movements, recall events, make decisions and regulate emotions.
But Rivait is not one to sit around and wait. She's doing all she can to inform others about the disease. After her diagnosis, she launched an online Facebook group which has 60 members and she knows of four other people who are affected in Chatham-Kent.
Rivait also spearheads flag raisings, attends national conferences, posts research, attends events such as the annual HD walk in Sarnia, and lends a listening ear.
"I like to spread awareness and meet other people who have HD," Rivait explained. "We support each other."
None of Rivait's siblings have been tested for the illness – a fact she understands.
"Lots of people don't want to know," she acknowledged. "They'd rather live their life and if it happens, it happens."
But Rivait, who works as a line cook at the Central Tavern in Pain Court, said she's someone who likes to plan ahead.
"I like to know things," she said. "I'd rather be able to plan and know what's going to happen."
Rivait is married to her wife Carrie Young and helps parent two step-children. She is also an avid volunteer who helps cook and distribute meals with the Salvation Army, along with her HD awareness activities.
The Facebook group is called People Affected by Huntington Disease in Chatham-Kent.