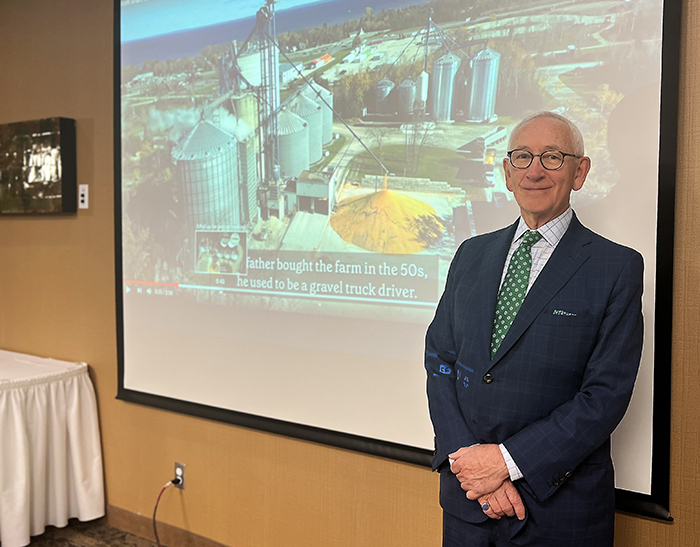 By Pam Wright
Local Journalism Initiative Reporter
The head of Spirits Canada has a burning question for the Ontario government to sip on.
"Why do consumers have greater access to beer and wine made in foreign countries over spirits made by Ontario distillers, using 100-per-cent locally grown grains?" is the inquiry Jan Westcott keeps asking as president and CEO of the trade association representing Canadian distillers.
Westcott paid a visit to Chatham recently, making a stop at the John D. Bradley Centre to talk to farmers and political leaders, regarding the ongoing dilemma faced by the industry.
He said it's time to change the conversation and spark change at the political level.
Beer and wine can be sold at local grocery stores, but spirits or liquor can only be purchased at an LCBO (Liquor Control Board of Ontario) outlet and Westcott says that's not fair.
"We want the legislation to change to be able to compete," he said, noting "it's time to go out and shake the tree to put some pressure on Queen's Park.
"We need to arm our MPPs with the information and the public needs to let them hear about it," Westcott said. "Products made in Ontario should be sold in Ontario."
Spirits Canada has been working hard to effect change. In February, they submitted a letter to Ontario Finance Minister Peter Bethlenfalvy prior to the provincial budget, asking the minister to support Ontario's distilled spirits industry by initiating a modest pilot project to examine the sale of spirits in grocery stores selling beer and wine, and to extend the current offering of beer and wine in grocery stores to include ready-to-drink spirits and coolers.
No dice.
"We've heard from members of the legislature that they support this," Wescott added, "but nothing happens. We've grown tired of the excuses. What's going on? We hear 'buy local' but instead Ontarians are supporting jobs and businesses elsewhere, instead of their own province."
Ontario's distilling industry is a big player on the agricultural stage. It is the fourth largest buyer of corn and largest purchaser of rye, eating up between 225,000 and 250,000 tonnes per year.
Westcott likes to point out the industry doesn't buy as much grain as feedlots and ethanol producers, but producers "pay the highest price" for quality.
That's why Spirits Ontario is taking their awareness campaign on the road, talking to the folks who farm the land.
There's another bright spot for grain producers relating to the industry. In St. Clair Township, north of Wallaceburg, Diageo is building a 400-acre distillery and warehouse complex to produce Crown Royal Canadian Whiskey. The $245-million carbon neutral project is the first new distillery to be built in Canada in 50 years.
Kathleen Wynne was premier of Ontario when it became legal to sell beer and wine at grocery stores, and Spirits Canada was hoping to see a change under the Ford government, but nothing's happened.
Currently, beer and wine are sold at 450 grocery stores in the province, 400-plus beer stores and there are an additional 272 private businesses where wine is sold.