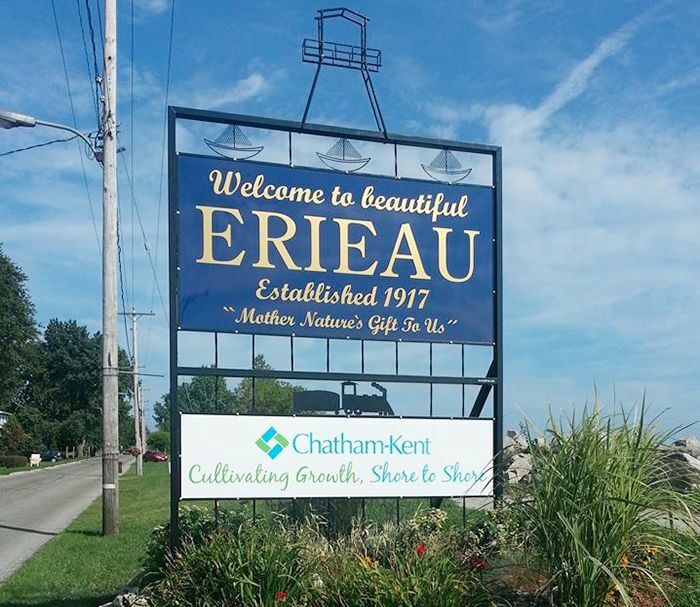 By Pam Wright
Local Journalism Initiative Reporter
If the provincial and federal approvals are met, Aqua City at Erieau is a go this summer.
After a discussion on safety, liability, parking and profit-sharing concerns, Chatham-Kent council approved the Lake Erie beach hamlet as the site for the new inflatable water park in an 11-4 vote.
South Kent Coun. Ryan Doyle, who brought the motion forward, gave a detailed explanation on how the idea came to the municipality.
"There's been a lot of misinformation out there with regards to what's going on," Doyle told council, adding he wanted to "get everybody on the same page" as to how the idea came forward.
He said owner Sam Tudorica and Aqua City director Dr. Michael Fife approached him.
"I'm not worried," Doyle said. "It's their investment. If they want to take the risk, I say let them take the risk."
He said the water park will serve to attract bigger corporations who want to see "family friendly" activities, plus through profit-sharing, it will help fund projects in the Erieau community.
"To me this is a win-win-win. There are really not too many downfalls," Doyle explained, adding insurance liability at the park is covered up to $10 million in a liability policy.
"They only way I believe the city would be dragged into this over our insurance is if there was a claim over $10 million," Doyle said.
Aqua City, which includes slides, swings and an obstacle course, can accommodate 60 people at time, and up to 360 per day.
All visitors are required to sign a waiver and register online.
Lifeguards will be on staff continuously, and every participant must wear a lifejacket. A dinghy will also be onsite to quickly move people if necessary. It will employ 15 to 20 people.
Council learned the water park will be well anchored about 1,000-feet away from the pier to avoid the undertow and will be deflated to 40 per cent in rough water. It will not be used during storms and if there are water quality concerns, such as an algae bloom.
The proposal received enthusiastic support from some members of council, but there were misgivings from others.
West Kent Coun. Lauren Anderson said why not try it and see what happens.
"I think that this is a great idea," Anderson said. "I think my kids are going to love it, I think that I'm going to love it…we love going to Erieau and exploring Erieau and this is all the more reason to go there."
North Kent Coun. Jamie McGrail said she's worried about extra costs created by Aqua City.
"My biggest concern is that this does put an extra cost to the taxpayer of Chatham-Kent," McGrail said, adding it's a for-profit business.
She said she didn't understand why all the profit sharing will be kept in Erieau.
"I'd really like to see some of that money put back into Chatham-Kent as a whole," McGrail said to cover the cost of implementing it.
Both Chatham Coun. Alysson Storey and Wallaceburg Coun. Aaron Hall, expressed concerns about safety, but were assured by assistant fire chief Adam Walters that Aqua City must have a safety plan, as is required by every C-K business.
South Kent Coun. Anthony Ceccacci said he had concerns about the timeline, noting he'd like to see recreational developments roll out in a more strategic fashion.
Mayor Darrin Canniff said the quick turnaround on the project proves the Chatham-Kent community is "nimble.
"We are a growing community," Canniff said, noting he speaks with a lot of Chatham-Kent's young people who tell him they want to leave the municipality because there's nothing to do.
"We talk about the cost to the community but there's more cost to not keeping our youth here. Our employers need people and it's investments like this in our community that are going to keep people here and put us on the map," Canniff said, pointing out that the Aqua City would go elsewhere if the decision was postponed.
Shortly after the initial announcement was made, the C.M. Wilson Conservation Area was floated as secondary location for Aqua City if Erieau wasn't possible.
However, concerns about water quality quashed the idea.
Doyle said six water samples taken at C.M. Wilson Conservation Area May 24, barely made the cut for safe water bathing, noting the water won't safe as the weather grew hotter.
As part of the deal with the owners, the municipality will allow storage facilities onshore. They will also provide security outside of the park's 11 a.m. to 7 p.m. operating hours.