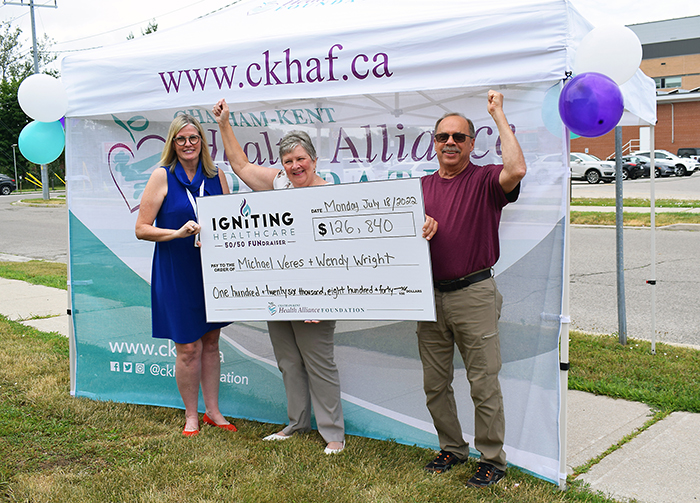 The Chatham-Kent Health Alliance Foundation's (CKHAF) Igniting Healthcare 50/50 FUNdraiser, sponsored by MCH Homes, is back with more prizes than ever before.
This year's initiative will include three Early Bird draws, featuring a trio of prizes for three lucky winners.
The first Early Bird draw for $1,000 cash will be held at the CKHAF office on June 2.
The second Early Bird draw on June 16 will see the winner take home a Broil King Keg Charcoal Smoker/BBQ. The draw is to be held at Home Hardware, 124 Keil Dr. S. in Chatham.
The third draw will take place at Wallaceburg Canadian Tire, 74 McNaughton Ave. in Wallaceburg on June 30. The lucky winner will paddle away with a Pelican Magna 100 Packaged one-person kayak.
The grand prize will be held July 12 at 1 p.m. Last year's 50-50 raised $253,680 and saw Chatham's Mike Veres and his wife Wendy take home a cool $126,840 cash prize.
Since its inception in 2019, the fundraiser has raised more than $1-million in total ticket sales, awarding a jackpot of over $100,000 each year.
Proceeds from this year's event will support the purchase of a Sterrad Unit for the Chatham-Kent Health Alliance.
Once again, MCH Homes is playing an integral role in supporting the Foundation's 50-50 draw.
There are four ticket-pricing options for this year's campaign. The public can choose to buy 10 numbers for $10; 60 numbers for $20; 200 numbers for $50; or for best value, 350 numbers for $75.
Tickets can be purchased at the CKHAF office at 9 Ursuline Ave. in Chatham, Monday to Friday from 8:30 a.m. to 4:30 p.m. or online at ignite5050.ca. Community events where tickets will be sold are also in the works.
To learn more, follow the campaign on Facebook, Instagram and Twitter for updates and to find out where tickets will be sold.