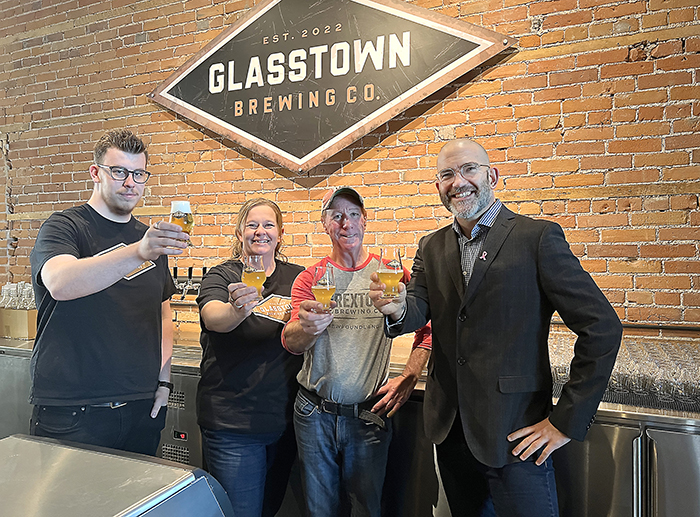 By Pam Wright
Local Journalism Initiative Reporter
The suds are flowing in Wallaceburg at Chatham-Kent's newest craft brewery.
Located on the Sydenham River in the downtown core, Glasstown Brewing Co. melds a revitalized heritage building with the latest in modern brewing equipment and tasteful decor.
A grand opening took place May 20, marked by a parade to the Royal Canadian Legion Branch 18, a short hike down James Street to where the north and east branch of the Sydenham River converges.
As part of the opening celebrations, Glasstown staff walked the first keg down to the legion and poured the first draft beers at 1 p.m. simultaneously, at both the brewery and the legion.
According to operations manager Christina McFadden, Glasstown will kick off with seven types of beer on tap, but plans are in the works to eventually have 18.
"We'll be expanding as we go in the first couple of months," McFadden said.
The business will also kick off with five different styles of pizza in Wallaceburg's first-ever wood-fired pizza stove, as well as pretzel appetizers and salads.
McFadden said Glasstown is aiming to use local suppliers as much as possible with its vodka, gin and whiskey coming from distillers within a two-hour driving distance of Wallaceburg. It will also be offering cider from Shale Ridge Estate Winery and Cidery near Thedford.
There's more to come, as McFadden said a tasting room on the second floor will be opening soon.
Wallaceburg Coun. Aaron Hall called the opening of Glasstown Brewing Co. a "catalyst for the future of downtown Wallaceburg.
"It's an incredible investment by Todd (Shepley) to redevelop this building," Hall said. "It's for the whole community, not just Wallaceburg, but all of Chatham-Kent."
Owned by Wallaceburg native Todd Shepley, the project has been a year and a half in the making, with the structure undergoing extensive renovations.