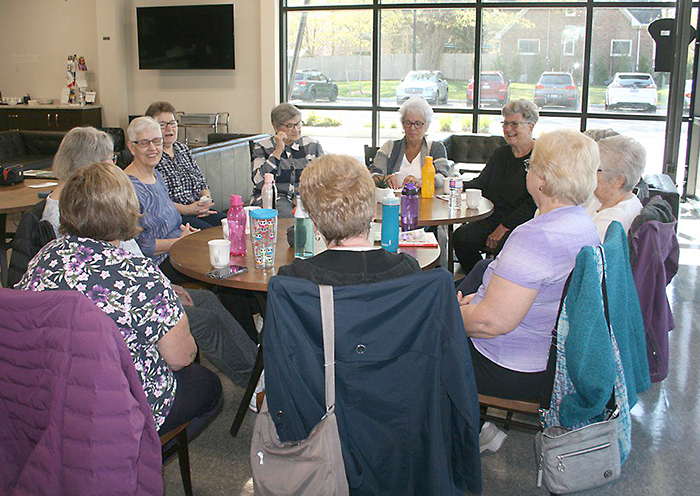 By Michael Bennett
Local Journalism Initiative Reporter
The Ridgetown Independent
The background laughter from participants in the Walk It Off class at the Ridgetown Adult Activity Centre (known as The Centre) may have drowned out portions of a reporter's taped interview. But, the sounds of people enjoying themselves were sweet music to everyone's ears.
The activity centre's transition to a volunteer-operated facility has exceeded expectations.
It was mid-March when the Board of Directors made the difficult decision to temporarily lay off staff and rely on volunteers amidst a financial crisis.
The Centre's members have more than risen to the occasion as the number of volunteers has gone from a "handful" to more than 60 to look after the various functions from operating the front desk to helping at bingos and leading programs as well as tasks such as cleaning and gardening.
"It's been incredible with what's been accomplished," said Mary Hill, Chair of the Board at The Centre. "We struggled as a board to get volunteers for any role … now we have 10 volunteers working on the monthly lunches alone."
Louise Maxfield, Board Member and Volunteer Coordinator, agreed.
"It's amazing the number of people who have come forward," she said. "We have 12 people working on the front desk, dividing it into four-hour shifts, which I enjoy doing, to meet the people coming in."
The community has also responded with increased business support and participation in fundraising events, such as the April luncheon and Easter draw.
And an influx of returning and new members has allowed for more programming led by volunteers.
"It's an exciting turnaround, not necessarily 180, but a 90-degree turnaround," Maxfield said. "We're going in a different direction and vision."
"There's a lot of joy and happiness in the building," Hill added. "That's a real positive thing."
The new 75,000-square-foot activity centre opened last July as a successful building plan and fundraising campaign. The property at 40 Erie St. S. being donated allowed the doors to open with no outstanding debt.
However, funds for operational expenses were much higher than anticipated, as coupled with low membership coming out of COVID-19, the Board was forced to make drastic changes earlier this year.
And a little under two months later, the activity centre's financial outlook has improved immensely.
"We are operating on a balanced budget," Board member Robert Clark reported. "And we are looking forward to expanding our programs and services."
Hill said the Board had developed two layers for fundraising.
"The local fundraising by the volunteers, things like bingos, lunches, garage sales – the grass root level fundraising," she said.
The other level is being conducted by a committee seeking private and government grant opportunities.
"We've been very fortunate to be able to cut our expenses tremendously," Hill said.
She said the goal is to be able to have a paid employee return to oversee the operations that volunteers are currently covering.
"We're retired. We don't want full-time jobs," Hill said with a laugh.
The increase in membership – it was up to close to 400 by the end of April – and funds coming into the building has the Board of Directors hopeful of expanding current and introducing new programming.
Health, fitness and exercise programming, the sewing group, line-dancing, duplicate bridge, eight-ball and snooker are among the most popular activities offered at the centre.
The Centre has been listening to members for ideas for future activities and programming. It has come up with a list of close to 30 possibilities, from woodworking and art classes, foreign-speaking classes, music, creative writing and trivia, and a number of health and wellness seminars. Any additional programming would be dependent on volunteer leadership.
The Centre will offer several special events during Seniors Month in June, including pedorthist and audiology clinics, a presentation by the Ridgetown Library on senior scams as well as several social activities, including a barbecue.
The activity centre issues a warm welcome for anyone in the community, age 45 and older, to join. The annual fee is $30, with a $3 cost per activity.
For more information on The Centre, visit 40 Erie St. S., or call 519-674-5126.