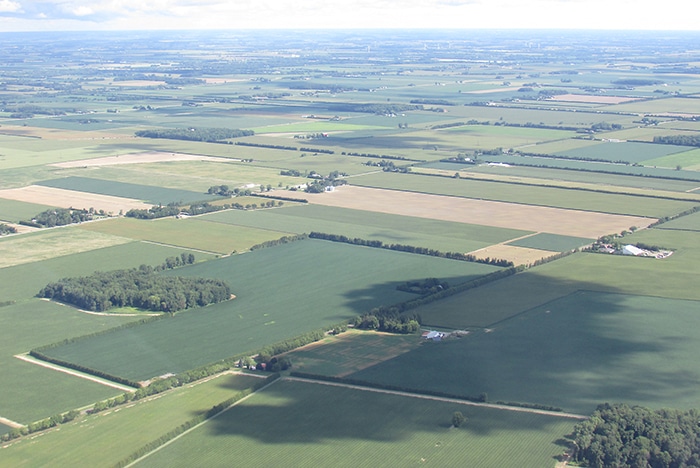 By Pam Wright
Local Journalism Initiative Reporter
Chatham-Kent council may be finally moving the needle towards equalizing its farm tax ratio with the rest of Ontario.
At its April 3 meeting council narrowly approved a motion put forward by West Kent Coun. Lauren Anderson to consult with stakeholders about an increase and bring a report back to the April 24 meeting.
The motion recommends raising the tax on agricultural land to .23 from .22. – the amount it's been sitting at for nearly a decade.
Chatham-Kent's rate is lower than more than 87 per cent of Ontario's 400 plus municipalities – with eight out of 10 neighbouring municipalities at .25 per cent tax rate for agriculture.
"I think I would like to have a discussion about this at this time for this budget," Anderson said, noting the tax ration was decreased at a time when farmers were struggling to give them a break.
Anderson said that's changed.
"It's been several years and I think it's very well known that farming has been a success, been very successful for several years," the councillor said, adding that on the flip side commercial, residential and industrial have taken a huge hit in profits in the last three years.
Wallaceburg councillor Carmen McGregor agreed with the motion, considering Chatham-Kent agricultural tax is one of the lowest in the province.
"I wonder if we should not be looking at other increments down the road which could be put into place as we move forward to try and bring us in line with what's happening around the province," McGregor said.
Although Chatham-Kent council had been looking to raise the farm tax ratio incrementally in the past, it was decided that council wouldn't take any action until new MPAC (Municipal Property Assessment Corporation) released new assessment rates, something it normally does every four years.
But taking action was delayed due to the pandemic and new assessment won't be happening until 2024 at the earliest. The municipality is currently working off of MPAC rates set in 2016.
There was some discussion around the table about how MPAC changes would affect taxpayers, but it was explained that MPAC rates merely shifts the tax burden according to the assessment and the municipality does not collect more money.
Chatham councillor Brock McGregor, chair of the municipality's budget committee for the last two years, said he was happy to see Anderson's motion come forward, as he does not recommend waiting for MPAC.
"I'm a Leaf's fan so I'm used to waiting, but waiting for MPAC is becoming very similar to waiting for a Stanley Cup," McGregor told council. "I appreciate there will be some thought put into this and I support the motion."
Voting in favour of the 9-8 motion were councillors Anderson, Conor Allin, Brock McGregor, Michael Bondy, Carmen McGregor, Marjorie Crew, Aaron Hall, Alysson Storey and Mayor Darrin Canniff.
Against were Anthony Ceccacci, Ryan Doyle, Amy Finn, Rhonda Jubenville, Jamie McGrail, Steve Pinsonneault, Trevor Thompson and John Wright.