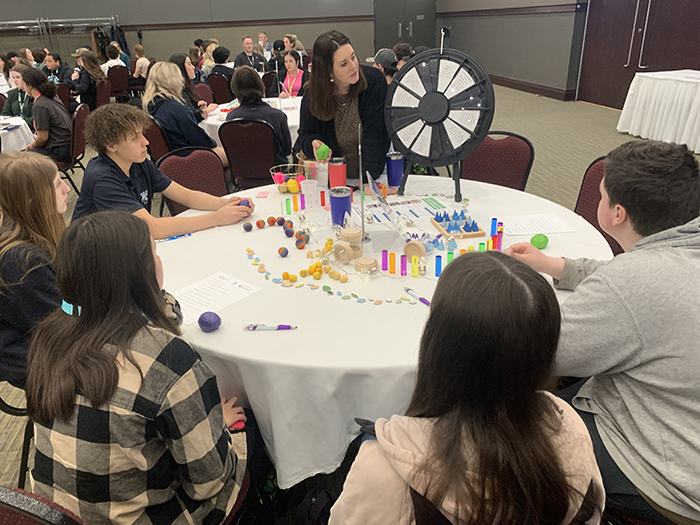 Secondary school students from across Chatham-Kent received an up-close and personal look at some of their career options during the JA (Junior Achievement) World of Choices event recently.
The event, held at the John D. Bradley Centre, attracted 180 students who had the opportunity to speak directly with members of the Chatham-Kent business, government, social services and non-profit sectors.
It's the first time students have been able to participate in an in-person event since the pandemic.
"You can feel the excitement in the room," said Karen Gallant, JA's president and CEO of Southwestern Ontario. "The students are more than ready to take part."
Gallant said although the event had been held during the pandemic, "it simply isn't the same. We found as a society that we need the interaction of person-to-person contact. A lot of social skills eroded during the pandemic and students were no exception."
Galllant said the event is practical in nature. "Hearing first-hand about the day in the life of someone in a particular job is very useful."
"A student may be interested in a particular career path but getting to speak with someone in that field can either reinforce that interest or send it in another direction. Both outcomes are valuable."
She said there is a strong emphasis on skilled trades due to the severe shortage in that area, however, more than 10 sectors participated. Students had the opportunity to speak with as many as five mentors in different areas.
"We're very grateful to our mentors and sponsors who support this event," Gallant said.
During the event, Junior Achievement received a Grow grant of $154,100 from the Ontario Trillium Foundation to expand the reach of its financial literacy programs to Grade 7-12 students in Chatham- Kent.
"Receiving this grant from the Ontario Trillium Foundation is great news", says Trevor Jones, MPP for Chatham-Kent-Leamington. "This is a wonderful opportunity for students in helping them build a strong and influential career. The hands-on-learning will assist them in developing everyday skills that are essential to building a strong financial foundation. This grant will give them the essential skills and development for a brighter future".