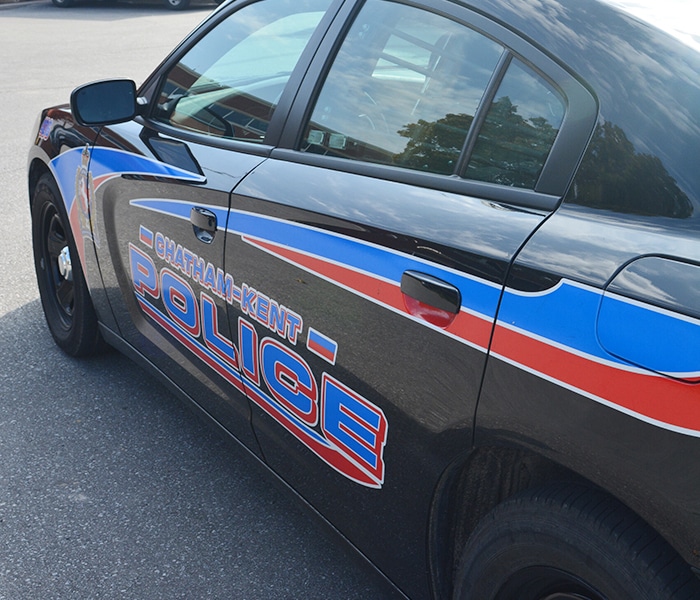 Pipe problems
A local man faces charges after someone beat up a pylon with a length of chan and then threatened security guards and police with a steel pipe Wednesday afternoon.
At 4:40 p.m., Chatham-Kent police responded to a weapons investigation on Grand Avenue West in Chatham. 
Police learned the man was observed by security whipping a large chain at a pylon. When approached, the man became confrontational and charged at the security guards aggressively, holding a large steel pipe, police say.  
Police located the man on Emma Street. The man continued to be aggressive while holding the pipe in a threatening manner, police say. Officers utilized negotiation techniques and a conducted energy weapon to disarm the man and take him into custody without incident. 
A 48-year-old Chatham-Kent man was arrested and charged with assault with a weapon and weapons dangerous for the public peace. 
He was transported to police headquarters and held pending a bail hearing. 
Railroad cops arrest local man
 Wednesday morning saw a fair bit of commotion at the end of Murray Street in Chatham.
At 9:41 a.m., the Chatham-Kent Police Service responded to assist Canadian Pacific Railway police with an arrest of a man trespassing on railway property. 
The man was unco-operative with officers and resisted arrest, but eventually was taken into custody, police say. 
The man was also wanted on an outstanding warrant and bound by conditions of a release order not to enter CP property.
A 26-year-old Chatham-Kent man was charged with failing to comply with an undertaking, entering on land on which a rail line is situated, and two counts of resisting arrest. He was transported to Chatham-Kent police headquarters and held pending a bail hearing.
Theft 
You have to pay for items you collect in a store.
At 11:35 p.m. Wednesday evening, police responded to a business on Queen Street in Chatham for a shoplifting investigation. 
Through investigation, police learned a woman entered the store and attempted to leave with two bags of merchandise without paying.
A 43-year-old Chatham-Kent woman was arrested and charged with theft and possessing stolen property.