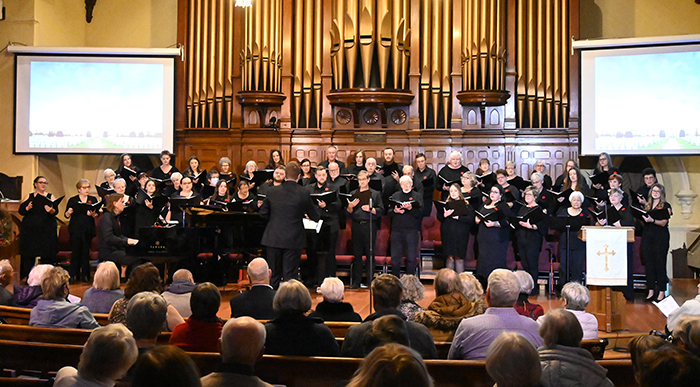 Under a Celtic Moon is the theme of the Saturdays at 7 concert to be presented on March 18 at 7 pm.  
This is the seventh of the 2022-2023 Saturdays at 7 concert series at St. Andrew's United Church on William Street in Chatham. 
This concert celebrates the Celtic roots of St. Andrew's. Originating from the British Isles, Celtic music has been a prominent genre in Western Europe that quickly spread around the world. It has been an integral part of music at St. Andrew's since its founding as a Presbyterian church in 1834. 
Some familiar Celtic tunes have been adapted to hymns such as Be Thou My Vision and All Things Bright and Beautiful, as well as the all time favourite, Danny Boy. 
The program will highlight the music of the Celtic regions, namely Scotland, Ireland, Wales and the Isle of Man, performed by St. Andrew's 60-voice concert choir and guest soloists from the Chatham- Kent area.  
The audience will also experience the energy and excitement of traditional Irish dancing presented by Chatham's Cornell School of Irish Dance.
 The Porch Sessions Celtic Group, a local instrumental group, will bring additional Celtic flair to the program 
This season is the tenth anniversary of the Saturdays at 7 at St. Andrew's concert series. 
Everyone is welcome to enjoy this evening of Celtic music. Donations (suggested $15 per adult) will be accepted at the door. All proceeds go to support the music program at St. Andrew's.