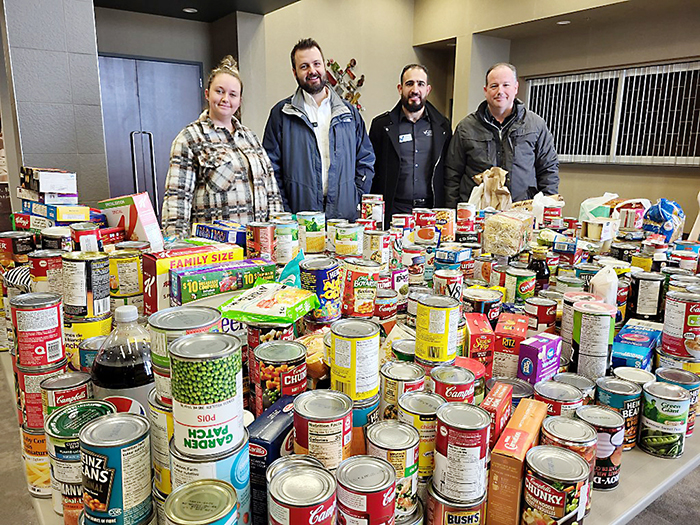 Not even an angry Mother Nature could stop the success of this year's Chatham Indoor Auto Show.
Sloppy, wet, snowy weather rolled across Chatham-Kent March 3, discouraging visitors from attending the event that night.
Greg Hetherington, the show's organizer and general manager of Five Amigos Broadcasting, said fewer than 300 people braved the conditions.
"Friday was crazy," he said. "It was our worst crowd ever. We had 280 people for the entire night."
But the enticement of new cars on display and sunny skies turned the tables the next day. Nearly 1,700 people showed up to check out the 75 cars on display from nine Chatham auto dealerships.
They also brought cash donations and non-perishable food items, as entry to the event was $5 per adult or a canned good. Proceeds went to four local charities, Outreach for Hunger and Salvation Army food banks, as well as the Children's Treatment Centre and R.O.C.K. Missions.
Hetherington said the Saturday crowd was a one-day record for the event.
Sunday delivered even better weather and another 1,020 car enthusiasts. The weather co-operated, but perhaps a little too much.
"Friday was poorly attended because of the weather. On Sunday, I think it affected us as well, because it was too nice," Hetherington said with a laugh. "But we still had a great crowd."
With more than 3,000 patrons over the course of the three days, the dealers and the event organizers managed to raise about $5,000 in food for the two food banks, and collect nearly $4,800 in cash donations for the treatment centre and R.O.C.K.
This year's event saw fewer vehicles on the floor, Hetherington said, and one dealer, Campbell Toyota, did not attend due to a lack of vehicles to showcase to the public.
That didn't mean they weren't involved.
"Even though Toyota wasn't there, they've been a part of organizing the show, but didn't have any product," Hetherington said. "I think it just shows the relationship with all the dealers trying to work together as one."
That is something you don't necessarily see in other cities.
Previous shows had seen about 90 different vehicles on display and this year's show featured 75. Just getting that number was an effort in creativity as dealership inventory levels remain below pre-pandemic numbers.
"Some of the dealers didn't have a full inventory, but they used a staff vehicle or had a customer who was willing to show their car they had just bought a week before," Hetherington said.