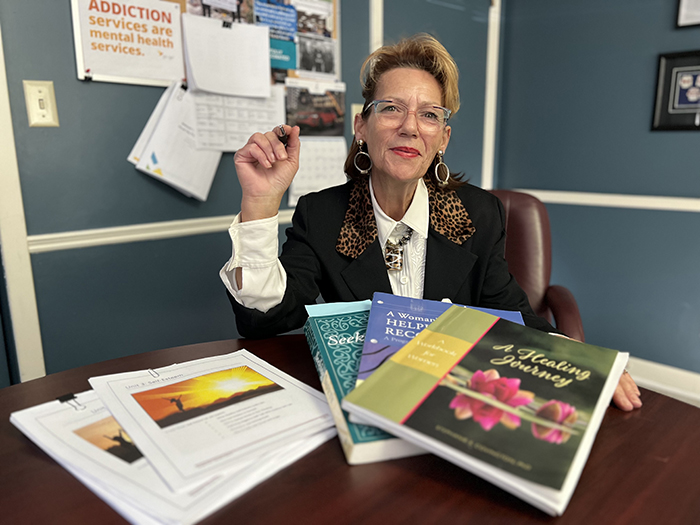 There's no time like the present to dig deep and find the courage to change.
Local women will again have the opportunity to do so thanks to the in-person return of the Courage to Change program.
A mainstay of Westover Treatment Centre programming since 2014, Courage to Change is again live after the pandemic.
Program founder Kimberly Quann, an addictions counsellor, life coach and recovering alcoholic, said the venture is open to any females aged 16 and up, who may be stuck and want to change the direction of their lives.
"It's open to any woman, not just women dealing with addiction," Quann told The Voice in a recent interview. "It's designed to help women gain insight into themselves and develop skills that will help them deal with life on life's terms."
Billed as a practical guide for women working towards healing and well-being, Courage to Change is being offered at St. Andrew's United Church in Chatham starting March 23. It will run each Thursday night from 6:30 to 8:30 p.m. until April 13th.
A second session following the same format is slated to run in Wallaceburg at St. James Anglican Church from April 27 to May 18.
According to Quann, some of the topics that will be covered are relationships – both healthy and unhealthy – empowerment, dealing with emotions such as guilt and shame, coping skills and communication.
Self-esteem, body image, eating disorders, sex and intimacy issues and personal belief systems are also on the agenda.
"We can be locked in patterns," Quann said. "We have to learn what to do when we are triggered."
A woman named Lisa who participated in Courage to Change online during the pandemic, said it was what she needed to kickstart change.
On her second hellish marriage to alcoholic number two, Lisa said she was in a desperate dark place when she finally reached out to Westover.
"It helped me build on myself and to learn about my core beliefs and what my triggers are," Lisa explained. "It gave me a really deep understanding. I learned that no one can make you feel anything. It's an amazing mind-blowing process and it's up to you."
Lisa, who has worked diligently to address her issues, is now in a better place and she credits Courage to Change for getting her started.
"The program shows you how to find out who you are," Lisa added. "It's never too late to learn about yourself."
Quann hopes Courage to Change will help foster a culture of community locally for women that will be impactful and life-changing.
Courage to Change is being made possible through sponsorship from the Women United of The United Way of Chatham-Kent and the Rotary Club of Chatham.
To find out more you can call Westover at 519-692-5110 or text 519-280-3291.