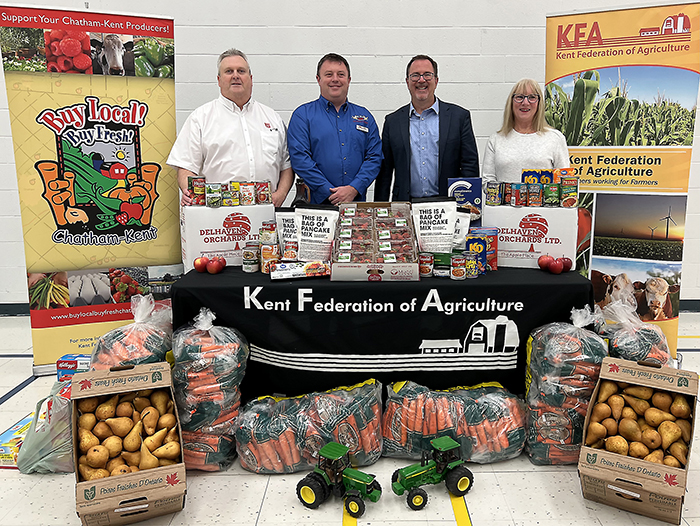 By Pam Wright
Local Journalism Initiative Reporter
Pain Court carrots, Cedar Springs' apples and fresh strawberries from a Tupperville greenhouse were among the cornucopia of items recently donated by the Kent Federation of Agriculture to local food banks.
The donation was made to honour farmers and food on Canada Ag Day Feb. 15. It's become an annual tradition for the KFA to mark the occasion by sharing CK's bounty with those in need.
According to KFA president Brad Snobelen, the organization makes it happen by reaching out to local producers and the community for food and cash donations.
"We have been celebrating Ag Day for the last 20 years in various forms," Snobelen said. "Fresh locally grown things are always in demand and it's nice that we have a supply. We're very fortunate here in Chatham-Kent."
The donation is welcome news for food banks hard hit by unprecedented demand.
According to Outreach for Hunger executive director Brenda LeClair, demand for food rose 48 per cent in 2022 over 2021.
"We had 9,247 requests for help," LeClair said. "I've never seen an increase like that. I thought maybe I made a mistake when I calculated the numbers…I had to read them a second time."
LeClair said Chatham-Kent's food bank problems are exacerbated by unaffordable housing and lack of opportunity for the unsheltered who are disabled or affected by mental illness.
"Not everybody is employable," LeClair added. "Sometimes all we can do is offer help in the moment."
The spike in rent is even forcing the employed to access the food bank to make ends meet.
LeClair called the KFA's ongoing support "a real blessing," not only for the fresh produce but for donations of protein-packed foods such as ground pork.
The KFA uses cash donations to purchase and package meats throughout the year, providing essential nutrition for needy families.
"People can make a meal with this," LeClair said, noting finding protein sources is an ongoing challenge for food banks.
Snobelen said the KFA is happy to help.
"A good thing for the food banks is a consistent supply," he said. "That's what we use the cash donations for."
There are also producers, such as greenhouse operators, who furnish the food banks year-round, he added.
With the cost of inflation, the agricultural community is also feeling its effects, similar to what is being experienced by consumers.
"With the world that way it is, with the war in Ukraine and the cost of fertilizer, it's definitely made it challenging for local producers," Snobelen said. "It's tough out there."