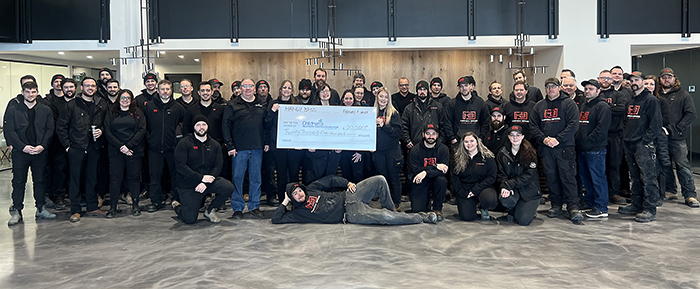 Handy Bros Home Comfort employees recently presented the Children's Treatment Centre Foundation with a donation for $20,500 in support of their Butterfly Building Campaign.
Over the past year, employees made donations through payroll deductions and decided to give to the Foundation.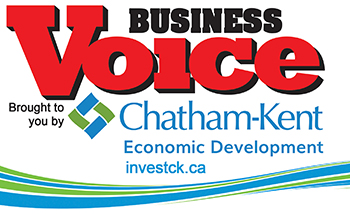 The Children's Treatment Centre provides services to one in five children and youth in Chatham-Kent, with 1,300 children on a waiting list for services.
The CTC-CK's Butterfly Building Campaign will support building a more extensive, state-of-the-art facility to better accommodate the growing caseload.
"Our staff felt that getting involved with the CTC and the new build was good for our community," Mitch White from Handy Bros said in a media release. "We are continually community focused and felt this was an important project to support."
The CTC-CK is the only organization in Chatham-Kent with more than 70 years of experience providing specialized, quality therapy to children and youth with special needs in our community. Collaboration from groups such as Handy Bros ensures that the CTC-CK can continue helping Chatham-Kent children and youth participate in life to the fullest.
Art and Heirloom set to turn 5
Chatham's funkiest art gallery, the Art and Heirloom Shoppe, is celebrating its fifth anniversary in March.
Located at 137 King St. W. in downtown Chatham, the shoppe houses a wide selection of unique pieces from 55 local and regional artists.
Sue Rumball, Betty Hebert and Chris Ford, will be on hand March 8 to welcome people and mark the celebration with a special five-year anniversary viewing and visit with the mayor.
"These five years have really wonderful for us and we have proven the need for an accessible gallery to sell and exhibit all of the talent in southwestern Ontario," Ford said in a media release. "Our customers are coming from near and far to see the contents of this gallery. It's the really amazing work that keeps them coming back."
The store offers customers a wide range of artwork including pottery, sculpture, fabric and glass arts, paintings, pen and ink designs, jewellery and photography. As part of the seasonal refresh, the store has restocked the walls and shelves with new pieces from a collection of familiar and up-and-coming local talent.
The shop is open Wednesday to Saturday from 11 a.m. to 4 p.m.
Business Voice is a bi-monthly column in The Chatham Voice that highlights some of the achievements made and efforts underway in Chatham-Kent's business community. Send your information to bruce@chathamvoice.com.