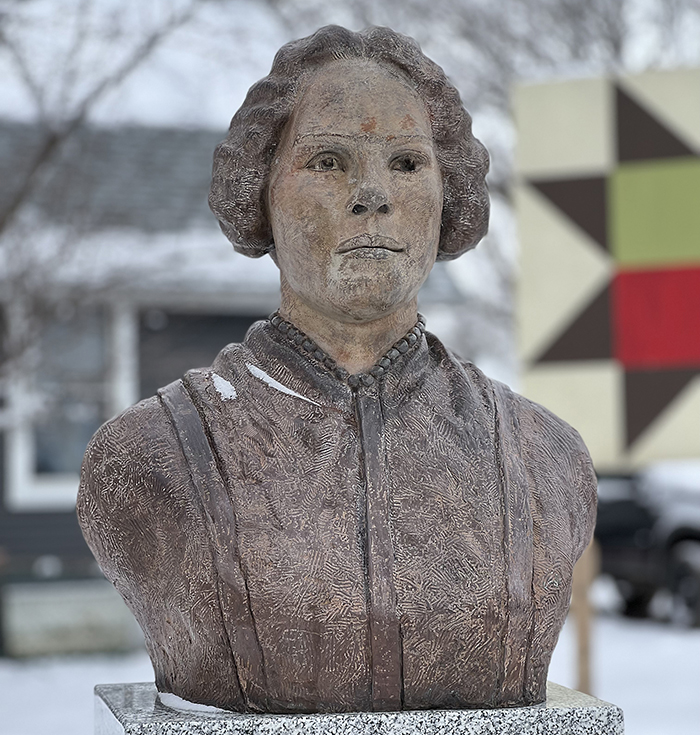 By Pam Wright
Local Journalism Initiative Reporter
This fall, Oct. 9 to be exact, will mark the 200th anniversary of the birth of Mary Ann Shadd.
The peerless legacy of the woman with strong ties to Chatham will be highlighted throughout 2023, kicking off during Black History Month Feb. 1.
According to Samantha Meredith, executive director and curator of the Chatham-Kent Black Historical Society & Black Mecca Museum, the entire month is jam-packed with activities and tours celebrating Black History.
"Our calendar is nearly full for the entire month," Meredith said in an interview with The Chatham Voice. "We have a lot of activities and tours planned, including activities acknowledging Mary Ann Shadd."
A special story-time and activity of Shadd's achievements will be held at the Chatham branch of the Chatham-Kent Public Library Feb. 11, led by the CKBHS and the Black Mecca Museum. Pre-registration is required and can be done by contacting the library.
Shadd, a tireless advocate, was the founder of The Provincial Freeman, becoming the first black female newspaper publisher in North America and the first female publisher in Canada.
Born free in Delaware in the U.S., Shadd was an anti-slavery activist, journalist, teacher and lawyer, in addition to her publishing acclaim.
Shadd founded The Provincial Freeman in Windsor in 1853 and moved it to Chatham in 1855. The paper was an important vehicle in carrying the anti-slavery message and was renowned across North America. After the American Civil War, Shadd returned to the United States to work for racial equality.
A bust to commemorate Shadd's legacy stands in Chatham's B.M.E. Freedom Park located at the corner of Wellington and Princess streets.
Black History Month will also feature a noon-hour flag raising to mark the month at the Chatham Civic Centre Feb. 1.
The Black Mecca Museum at the W.I.S.H. Centre will be open for tours Friday, Feb. 3, 10, 17 and 24, from 9 a.m. to 2 p.m.
The museum will be closed other days due to offsite presentations.
From Feb. 7 to 10, in-person general tours will be held at the Josiah Henson Museum of African-Canadian History located at 29251 Freedom Rd. in Dresden. The museum will host guided tours at 10 a.m., noon, and 2 p.m. on those dates. Advanced booking is required for groups of 20 or more and can be made at jhm@heritagetrust.on.ca.
The Buxton National Historic Site & Museum is holding a Black History Jeopardy event at Red Barn Brewing Company at 20466 Lagoon Rd., Blenheim on Feb. 9, at 6:30 p.m. Tickets are $15 and include a beverage.
Buxton's Next Generation is hosting a Night with Jamaal Cody on Feb. 14, also at the Red Barn, beginning at 7 p.m. Tickets are $35 and include refreshments.
A Discover the Black Mecca presentation will be held at the C-K Public Library, Chatham branch, beginning at 7 p.m. on Feb. 15.
A free virtual tour of the Josiah Henson Museum of African-Canadian History will run from 2 p.m. to 3:15 p.m. on Feb. 28.
Throughout the month, recorded virtual tours are available for viewing as well as episodes of Beyond the Underground Railroad. These can be accessed on the museum website and social media. Classroom resources and materials are also available.