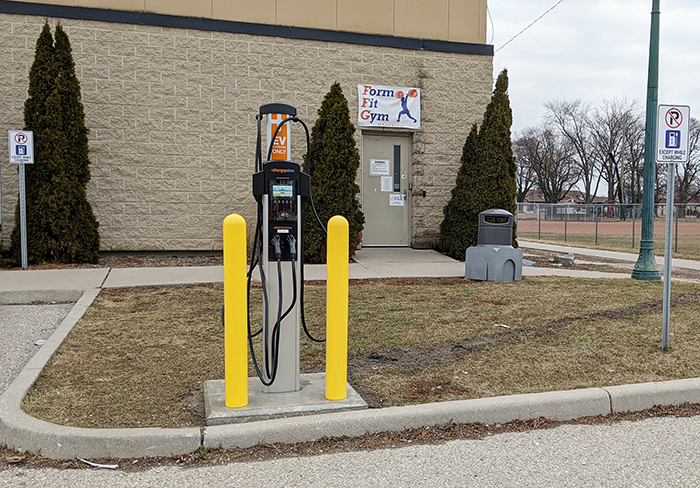 The Municipality of Chatham-Kent now has seven electric vehicle (EV) charging stations available for public use at multiple municipal sites around Chatham-Kent.
ChargerCrew Canada has contributed to installing the EV charging stations in Chatham, Blenheim, Dresden, and Wallaceburg.
In 2019, council declared a climate emergency and called for actions to address the local impacts of climate change. This investment in creating a local municipal charging network is hoped to encourage electric vehicle adoption as a way to curb greenhouse gas emissions related to transportation.
The Level 2 dual-port EV charging stations are strategically located at the following municipal facilities:
Gable Rees Rotary Poolat 66 Regent St., Blenheim
Cultural Centre & Museumat 75 William St. N, Chatham
Chatham Civic Centre (front parking lot) at 315 King St. W, Chatham
Chatham Civic Centre (underground parking lot)at 315 King St. W, Chatham
John Bradley Convention Centreat 565 Richmond St., Chatham
Ken Houston Memorial Agricultural Centreat 1212 North St., Dresden
Wallaceburg Service Centreat 786 Dufferin Ave., Wallaceburg
Level 2 EV charging stations are well suited for top-up charging of one to two hours.
The EV charging stations will be free to use during a trial period of at least six months to promote the use of electric vehicles.
Feedback is strongly encouraged during the trial period and will be vital in establishing a sustainable network.
A long-term program including the adoption of user fees will be assessed and presented to council following the six-month period based on the feedback received, usage, and operation and maintenance costs.
The total capital cost of the project was approximately $150,000 with contributions of $70,000 from ChargerCrew Canada.
The project is part of an initiative to deploy a network of EV charging stations at multiple locations in Southwestern Ontario.
Chatham-Kent's contributions to the project are being funded from the municipality's Green Energy Initiatives Reserve, which supports environmental sustainability in the community.
The municipality is exploring sponsorship opportunities to contribute to the project and welcomes interested parties to reach out to the municipality.
Feedback and inquiries can be directed to ck311@chatham-kent.ca or by calling 311 or 519-360-1998.