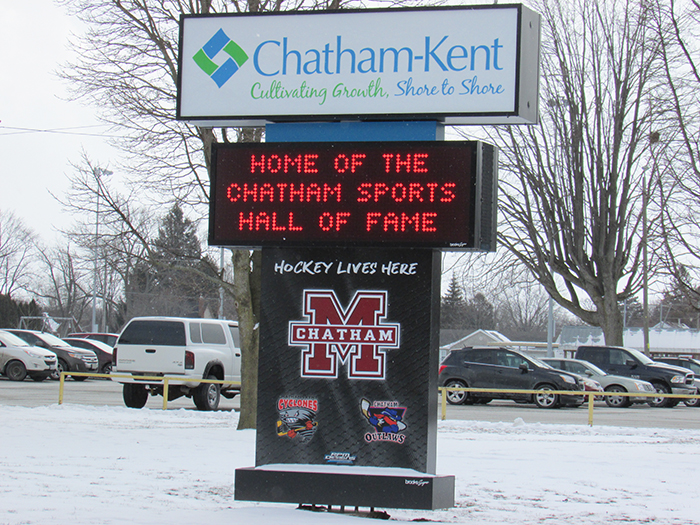 By Bird Bouchard
Local Journalism Initiative Reporter
The Ridgetown Independent
A local hockey arena has been nominated to win a well-known prize.
Since 2006, Kraft Hockeyville has helped to upgrade arenas from coast to coast, helping teams, families, and communities keep the spirit and passion for hockey alive. They have awarded more than $4.5 million to 93 communities across Canada.
Despite falling short and being a finalist eight years ago, Chatham Memorial Arena has been nominated for another chance to win $250,000 and to host an NHL game.
Memorial Arena was a finalist during the Hockeyville contest in 2015, falling short to the Panorama Recreation Centre in North Saanich, B.C. However, the Memorial Arena did receive $100,000 for placing second, which was used to purchase a new digital outdoor sign, automatic doors, and heated spectator areas at the rink.
The nationwide Kraft Hockeyville contest opened on Jan. 1, with the Chatham arena already receiving a nom.
Currently, the contest is in the first of five steps, the "Nominate and Rally" phase of the contest, which will run until Feb. 19. During this time, supporters can make submissions and post on social media to earn points for the local community. Judges will then review all nominations to select the finalists. The top four communities will go head-to-head in a round of voting to determine the winner.
Memorial Arena has played a large role in the lives of many in Chatham-Kent since 1949. The arena has hosted minor sports such as hockey, figure skating, ringette, and ball hockey. It has been home to professional hockey teams in the AHL and Border Cities League and was the home arena to the 1960 Alan Cup champions Chatham Maroons and Junior Hockey Maroons since 1959.
There are several ways the community can gain rally points for the arena. Submitting a nomination story is worth the most points (10) while sharing on Twitter (5), adding photos of the arena (3) and adding a note and reacting with emojis (1) all gain rally points.
Recently, the Municipality of Chatham-Kent has suggested selling the local arena as part of a proposed redevelopment plan for downtown Chatham. This would include a 4,000-seat entertainment complex that would also serve as an arena.
The top four finalists for Kraft Hockeyville will be announced on Mar. 11, with voting to begin on Mar. 31. The grand prize winner will be named on Apr. 1. To submit a nomination story for Memorial Arena, visit hockeyville.kraftcanada.ca.