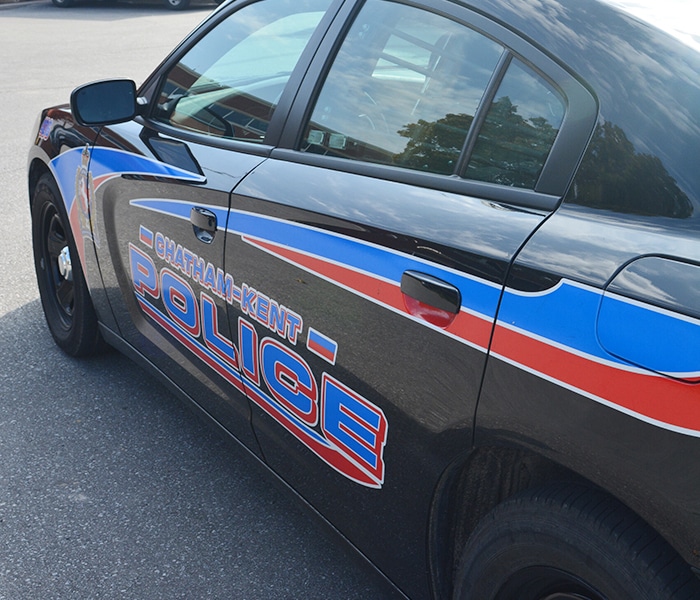 Dangerous driving 
It took nearly a month, but Chatham-Kent police have arrested a man in connection with some harrowing driving antics.
On Dec. 14, an officer driving on Marlborough Street in Blenheim had a vehicle traveling towards him, driving in the wrong lane. The officer quickly redirected his vehicle to avoid a crash.
After the vehicle had failed to stop for the officer, it went off road and into a field off of Chatham Street South. Both of the occupants got out of the vehicle and attempted to flee on foot into a wooded area. Police were able to arrest one person.
A 22-year-old Chatham woman was arrested and was identified as the passenger in the vehicle and was later released.
Police were able to identify the driver and had a warrant issued for his arrest.
At 5:44 a.m. Wednesday, officers found the driver on Catherine Street in Blenheim.
A 38-year-old Blenheim man was arrested and charged with dangerous operation of a motor vehicle, flight from police, operating a motor vehicle with a prohibition, and two counts of failing to comply with a release order.
Outstanding warrant 
Tuesday at around 8:30 p.m., the Waterloo Police service got in touch with the Chatham-Kent Police Service asking for assistance in arresting a man who had committed crimes in the Waterloo area.
A 40-year-old Dover Township man was arrested and turned over to the Waterloo Police Service.
Bail violations 
An officer on patrol early this morning observed a man walking on Murray Street in Wallaceburg. The officer, at about 2 a.m., recognized the man from previous interactions.
After learning that the man was wanted on an outstanding warrant by the Lambton Ontario Provincial Police, the officer arrested the man.
After he was searched by the officer, suspected methamphetamine was found in his possession, police say.
A 39-year-old man was charged with failing to comply with an undertaking and possession of a controlled substance.