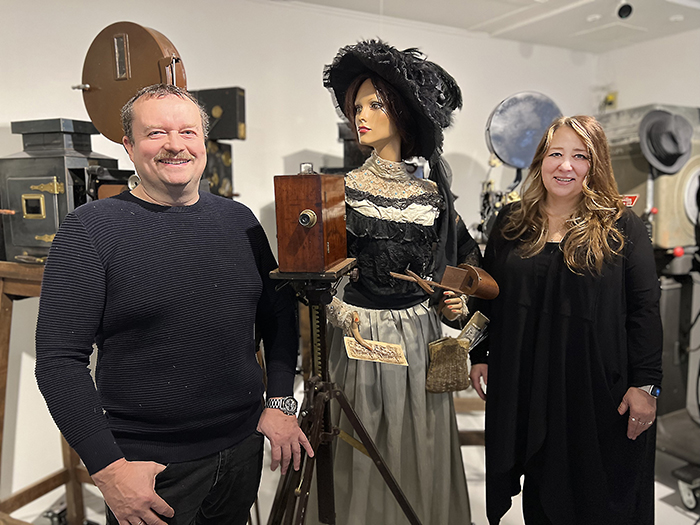 Studio shifts to C-K from K-W
By Pam Wright
Local Journalism Initiative Reporter
Sometimes talent and knowledge come together in a perfect partnership.
That's the case for animator illustrator Alice Sinkner and mechanical technologist Paul Kriz, founders of SheepDog Animation Workshops & Exhibits.
Located minutes from Rondeau Park at the intersection of New Scotland Line and Kent Bridge Road, the married couple have created a space that's part studio, part classroom, part living quarters and part future museum.
"Our dreams merged," Sinkner said in a recent interview, adding the two continue to draw on each other's talents in a business that's rooted in the golden age of classical animation going back to the roaring '20s and the 1930s.
Originally from the Czech Republic, Sinkner and Kriz successfully operated SheepDog Animation in Kitchener-Waterloo for a decade.
Kriz credits his wife for coming up with the SheepDog concept, along with the business's trademark of two vintage era cartoon characters.
Sinkner is the lady sheep and Kriz is the gentleman dog.
"I thought it was such a great idea because it was so much fun," he added.
Together, the couple have taught teens and adults a wide range of in-person animation classes, including Claymation, hand-drawn 2D animation, traditional and digital art, and 3D modelling.
Portfolio development is another aspect of SheepDog's business, with the pair assisting Canadian and international students who are applying to study animation.
The couple's credentials speak volumes. Kriz has a deep background in photography and engineering, while Sinkner, a graduate of the animation program at Sheridan College, has extensive experience in classical and 3D animation and illustration.
She worked for seven years on the Franklin the Turtle's children's television series, as well as Walt Disney's Gargoyles, Rugrats, Babar and the Canadian animated feature film and television series of Anne of Green Gables. Her published work includes more than 20 spinoff and first reader books of Franklin, and her illustrations and books have been published in many countries, including the U.S., Korea, India and the Czech Republic.
Sinkner was also a professor of animation at Conestoga College.
SheepDog Animation's efforts have led to multiple international festival awards for both the studio and its students. A display in the building's lobby showcases some of them, including the Walt Disney TAIF, Best International Films and Special Award Winner, and the Festival Official Selection for School Reel in 2017, 2018 and 2019.
Sinkner and Kriz were busy living life and running a successful business in Kitchener-Waterloo until 2020 when the COVID-19 pandemic hit, bringing an abrupt halt to their face-to-face learning model. Like many other business owners, the couple had to re-invent SheepDog, pivoting to online learning.
The pandemic brought other changes, and Sinkner and Kriz made the decision to leave the city. They loved visiting Rondeau Park, and when a property became available nearby, they decided to move to Chatham-Kent.
They closed the Waterloo studio and began renovating what was once a restaurant into a professional and personal space featuring a 1930s vibe.
The two said they have no regrets.
"We love it here," Sinkner explained. "We love the neighbours and we love the community."
An added plus to their quality of life is a daily walk in Rondeau Park, Kriz said, weather permitting.
Currently, the couple is hard at work finishing up renovations on the building for SheepDog's Feb. 18 grand opening. The two are also in the middle of preparing a schedule of in-person classes similar to what they offered in Waterloo, which will be taught in their new creative lab spaces.
The couple have another goal in mind. Sometime in the future, Sinkner and Kriz plan on adding a museum-style display where they will showcase their collection of rare projectors, cinematic cameras and pre-cinematic magic lanterns, which date back to the 1800s, the earliest days of animation.
The collection includes cameras and projectors developed in Europe, a Movieola film editing machine similar to the one used by Steven Spielberg, and an authentic Walt Disney animation desk.
The machines are Kriz's forte.
"Thanks to Paul, the history is here," Sinkner explained. "He understands the cameras and is able to figure them out, fix them and restore them."
Later this year, SheepDog will offer guided tours of the collection that will explain the history of animation prior to digitization in the 1990s. Group tours and school outings will be part of the programs offered.
For more information, visit sheepdoganimation.com.