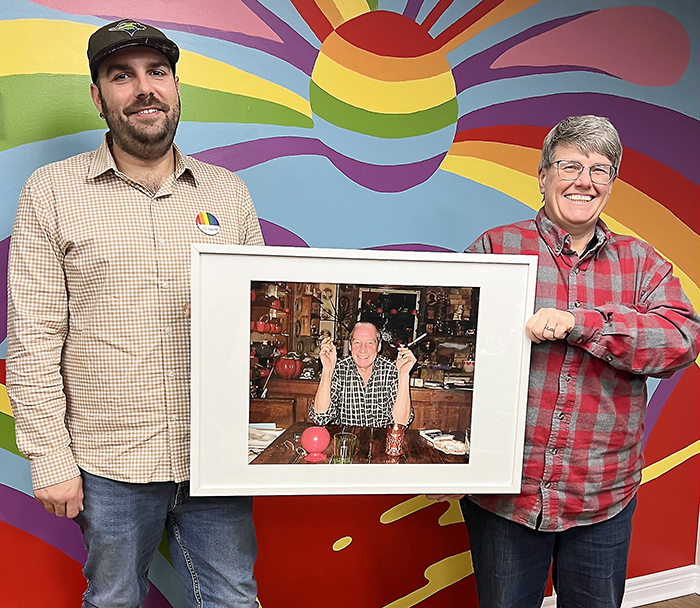 By Pam Wright
Local Journalism Initiative Reporter
Bill Brokenshire had some tough times growing up gay in Chatham-Kent.
That's why the beloved teacher ­– who left Chatham for Toronto as a young man – bequeathed a sizable donation to create a safe space for the LGBTQ+ community in his hometown.
Three years in the making, Brokenshire's vision has come to fruition with the completion of Bill's Place on Centre Street in Chatham.
Colourful and cozy, Bill's Place is accented with funky art, a couch and comfy chairs. There's a piano for future sing songs, a brilliant rainbow-hued mural, plenty of houseplants and an aura of "make yourself at home."
Previously used as former MP Dave Van Kesteren's constituency office, the building was purchased by the Chatham-Kent Gay Pride Association and extensively renovated in keeping with Brokenshire's dream.
In addition to the community space on the main floor, two new apartments have been added upstairs to help pay utilities and taxes. All the furnishings were either donated or purchased at low cost.
Marianne Willson, president of CK Pride, said no taxpayer dollars have gone into paying for the bricks and mortar structure as per Brokenshire's direction. By design, Bill's Place has no paid staff and will be operated by volunteers, however, money still needs to be raised to cover operating costs, or to fund special programs or projects.
"Bill's idea for the centre was well thought out," Willson said in a recent interview, adding his goal was to create a permanent self-sustaining haven for those identifying as LGBTQ+.
It's something Brokenshire himself wished he had had when he was young, she added.
"Bill had a rough time."
Back in the 1960s and '70s, homophobic bullying was commonplace and people even lost their jobs if it was discovered they were gay. To this day, many LGTBQ+ folks are discriminated against and sometimes shunned by their families, with the gay community making up 25 to 40 per cent of those who are homeless locally.
Volunteer and CKGPA board member Nathan Dawthorne, who has been lending a helping hand, said Bill's Place provides a safe space to connect and network.
"If you don't have other people who have been through what you've been through, there's a lack of understanding," Dawthorne said. "I wish there was something like this when I grew up here 20 years ago. I would have felt a lot less alone."
The Alvinston native moved to London as a young adult but has since returned to live in Bothwell with his partner and son. He said Bill's Place is already fulfilling its purpose
Willson agrees Bill's Place is critical to the health and well-being of the LGTBQ+ community, especially in light of the isolation brought on by COVID-19.
"We see ourselves as bridge to services and people and knowledge and education so everybody can grow together," she added, in the hope that individuals and organizations will develop the JEDI principles of justice, equity, diversity and inclusion.
Bill's Place isn't open to the public yet, but an invite-only soft opening to thank donors, community sponsors and supporters was held in December. A grand-opening ceremony is scheduled for the spring.
Willson is thankful for the support Bill's Place has received.
"There are a lot of allies here," she said. "It's been a lot of work but well worth it. This building is a labour of love, time and passion. Stay tuned."
Earlier in 2022, the municipality approved Bill's Place for a $25,000 core-funding grant for programming and operations. To qualify, the facility needs to raise $50,000 and the municipality will rebate $50,000 back to them.