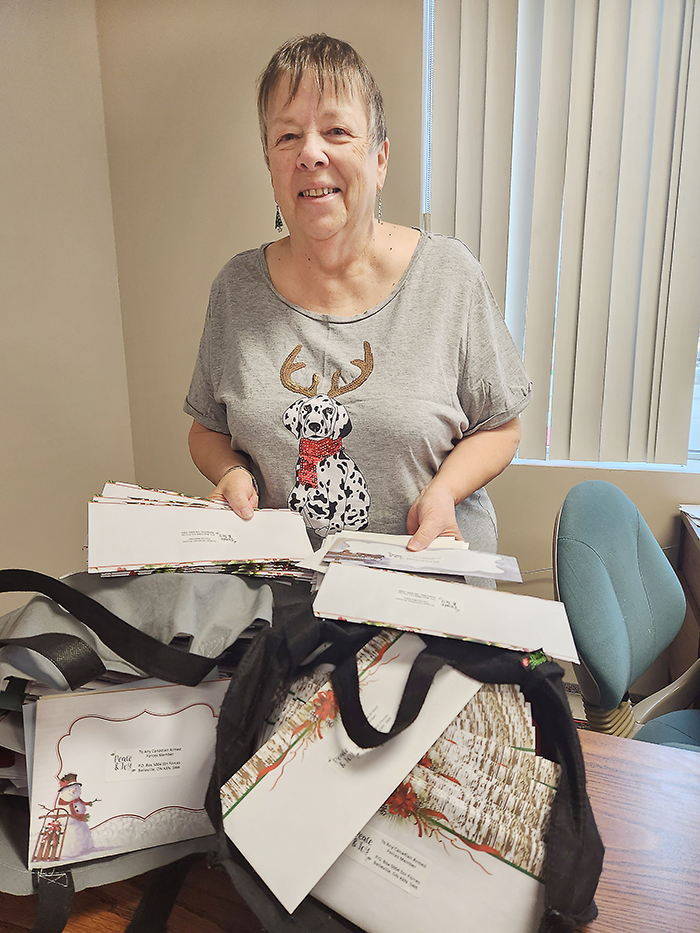 Hundreds of Canadian military personnel stationed overseas will receive written pats on the back thanks to the efforts of Chatham resident Sharon Chapple.
For the third straight year, Chapple has co-ordinated sending Christmas cards and greetings to Canadian men and women in the Armed Forces.
"We're sending hundreds this year, with thousands of signatures on them," she said.
It began when Chapple saw an ad encouraging people to send a greeting card to a member of the military.
"I thought, 'If you can send one card, why can't you send more?' That's how it started," she said. "When I first heard about it, I thought it was a really great thing. I do it because I just love people."
Thanks to card donations from Gabriele Janka and Ruth Ann Dodman, and support in getting cards signed from Suzanne O'Rourke-Warner, Chapple was able to send cards and letters by the hundreds. She dropped her last batch off at Canada Post on Nov. 30.
Chapple and O'Rourke-Warner took cards to businesses, schools, retirement homes and groups, asking people to sign the cards. Chapple said the response has exceeded expectations.
"They are very gracious and thankful we are doing it," she said of the folks they've approached. "I've run into some who have relatives in the military."