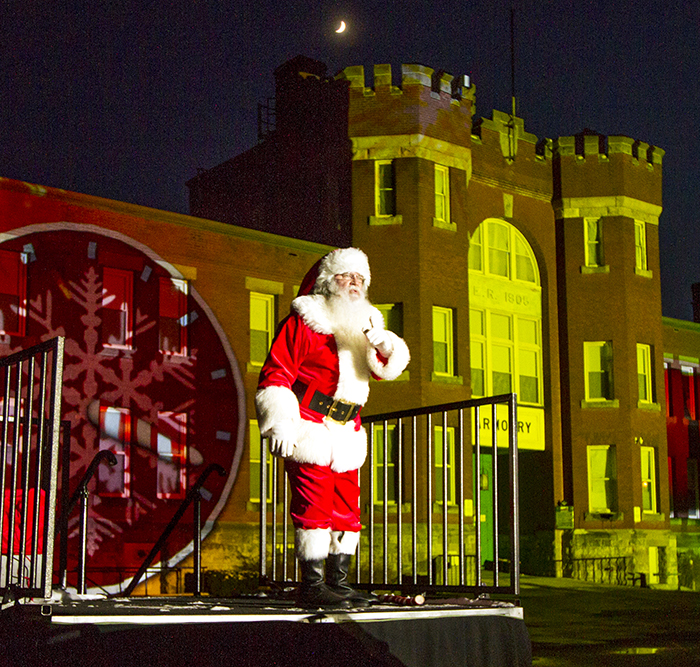 There's trouble at the North Pole, and families can help fix things by coming to the Chatham Armoury.
Between Dec. 15 and 18, Four Diamond Events is putting on "Trouble at the North Pole" inside the Armoury.
Four Diamond's Lisa Lester said their annual Christmas show is headed indoors this year and features a greedy real estate developer seeking to take over the Pole.
In previous years, holiday performances were showcased on the front of the Armoury building and on an outdoor stage. Lester said winter weather is just too unpredictable.
In fact, the weather wreaked havoc on the Halloween and Christmas events she ran in 2021.
"The weather was atrocious last year. We had to cancel two days of shows," she said of the Holiday in Lights events.
For the Halloween show, Mother Nature delivered rain and a cold wind. The Christmas show suffered from very high winds.
"There were pretty treacherous stage conditions for our performers," Lester said. "We had to cancel the Saturday and Sunday shows. We were supposed to host the Children's Treatment Centre on the Sunday, and it just broke our hearts."
Lester added the outdoor shows involved using nearby municipal property as well.
"As soon as you do anything on municipal property, there are tons of hoops to jump through," she said. "And our projectors had to be set up on municipal property.
"Moving inside, we have more control. We can create this amazing, magical world for everyone to enjoy," Lester added.
The performance week kicks off Dec. 13 with an adult-oriented event, The Merry Mingle.
"We are doing a huge kick off on the 13th. It's our show opener and it's the first night people can come and view the trees," Lester said.
With Christmas in Muskoka now on the shelf, Lester said another program has sprung up, Merry Magic CK, which will raffle off Christmas trees in similar fashion as Christmas in Muskoka did in the past. Except where the funds from the former event helped send students on leadership trips to the Muskokas, Merry Magic funds will go to support Chatham-Kent Children Integrated Services Foundation which supports children and families through Linck. Funds will also be dedicated to Feeding Our Children by providing lunches to schools in need, as one-in-five children live in poverty and go to school hungry.
For The Merry Mingle, doors open at 6 p.m. There will be complimentary hors d'oeuvres and a cash bar.
Between Dec. 15 and 18, there are two performances each evening – from 4 p.m. to 6:30 p.m. and from 6:30 p.m. to 9 p.m. – which are geared for children.
"The performance takes place in the middle of those times. The kids have a chance to do crafts and visit with Santa before and after," Lester said.
Each child will also receive their own elf kits, she added.
The show will have a great deal of interaction with the audience, and "fun for the kids," Lester said.
Tickets for the shows are $16 for kids under 19 and adults are $24. Tickets to The Merry Mingle are $25.
For more information, visit armouryinlights.com.
"We're all about bringing the community together and we love to support the arts and culture in the community," Lester said.
<iframe width="560″ height="315″ src="https://www.youtube.com/embed/vapPFGDyD_k" title="YouTube video player" frameborder="0″ allow="accelerometer; autoplay; clipboard-write; encrypted-media; gyroscope; picture-in-picture" allowfullscreen></iframe>