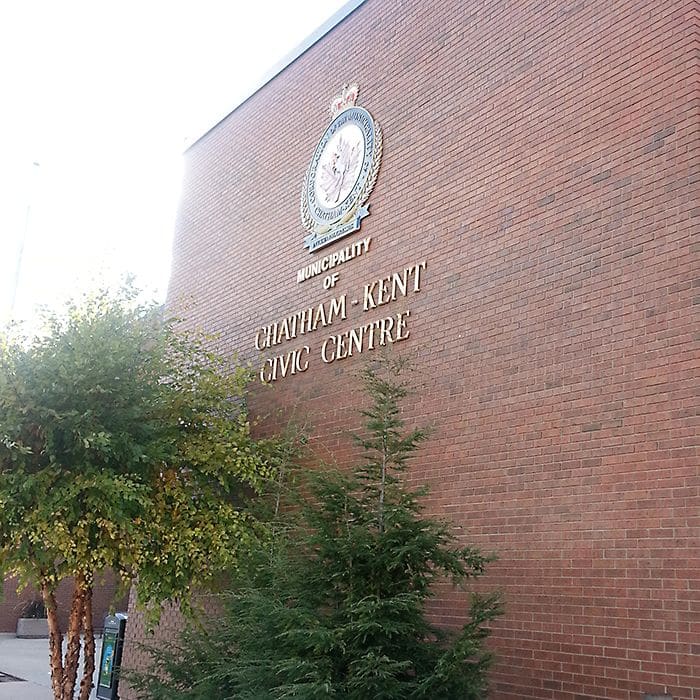 By Pam Wright
Local Journalism Initiative Reporter
At its Nov. 28 planning meeting, Chatham-Kent council paved the way for the construction of some 225 new dwellings in Chatham and Wallaceburg.
The four individual projects – which include a mix of single-family dwellings, row housing and townhouses – will bring more badly needed housing to the municipality.
In north Chatham – despite pushback from nearby residents – council approved an amendment to the official plan to permit the construction of a sizable housing development directly north of Chatham-Kent Secondary School and Erickson Arena.
The policy change allows developer Mohawk Farm Ltd. to take the next steps in designing the build on Delaware Avenue that includes 108 single detached homes and 50 row house units on a 20-acre parcel of land that's currently zoned agricultural.
Mohawk Farm Ltd. owns 80-acres of farmland at the site, including the 20-acre parcel.
However, a total of 14 deputations – including two in person – were presented to council expressing concern about the new build.
Traffic congestion and concerns about introducing row houses to the area were among the issues expressed.
An involved discussion about the development's pros and cons ensued around the council table, hitting on points brought up by the public. Many detractors took issue with the fact a traffic study supporting the build was done in July 2022 with critics saying it does not accurately reflect how busy the area is when school and arena programs are operating.
However, as part of his presentation to council, Chatham-Kent planning director Ryan Jacques said an updated traffic study will be completed prior to any further approvals from council.
He said future planning will see Delaware Avenue connecting to Idlewild Drive, and subsequently to Taylor Trail. An additional traffic light could also be added, he said, stressing that the policy change is one of the first steps forward.
Several councillors expressed support for the project, citing the demand for housing.
Chatham Coun. Marjorie Crew said she sees the need for adding rental units.
"We have a very low rental inventory in our community," Crew said, calling the one-per-cent vacancy rate "very unhealthy.
"I want to applaud the owners and you (the planning department) for pushing this forward," Crew stressed. "With the prices of houses, we need to be able to have some rental units available to people in our community who need them.
"To be able to afford a rental unit, you need to have a really good job," Crew said.
A motion by Chatham Coun. Conor Allin to refer the matter back to administration for more analysis and public consultation was defeated.
"I do think the traffic is a much bigger issue than what is being presented," Allin told council.
A second Chatham build was also approved by the municipality at the meeting. Council green lighted a zoning bylaw amendment to allow for the construction of a row house development on Park Avenue East.
Moccia Concrete and Concrete Products has put forth a proposal to build seven new units, incorporating an existing home on the site.
According to a planning report, each new unit will be 746 square feet. The development will include a new laneway and access to 10 new parking spaces at the rear of the lot.
Wallaceburg
An empty parcel of land in Wallaceburg, formerly the home of W.T. Laing Public School, is being developed by Trident Builders, making it one of the first new subdivision builds in the town in years.
Phase one will see the construction of 16 semi-detached residences, while another segment fronting Elgin Street will see the construction of four townhouse buildings that will contain 24 units.
Because further sewer and water improvements are needed, the townhouses will be built first in 2023, as infrastructure is already in place. Construction of the semi-detached homes is expected to start in 2024.
Storey Samways planner David French, representing Trident, told council the developer is ready to move forward with detailed designs for site plan approval and he does not anticipate any delays.
"It's the hope and goal of the ownership group to actually begin constructing the townhouse units in spring of 2023," French said. "There won't be any delay unless there is some unforeseen reason for delay."
As for the affordability question, French said the housing will be sold or rented in line with "what the market can bear."
Costs for infrastructure upgrades will be shared. The developer will pay 31 per cent, the municipality will be responsible for 35 per cent and Chatham-Kent Public Utilities will pay 34 per cent.
Wallaceburg Coun. Aaron Hall expressed his support for the project.
"I know Chatham-Kent has experienced some great strides in growth and it's exciting for Wallaceburg to join in on this momentum and help fill some of the housing gap," Hall said. "
A second, smaller development on the site of a historic home that burned down last year was also given the green light. Four lots are being created on the Elgin Street parcel.
French, who also represents Gilmac, the developer, said the first build in the spring will be constructing a home for a family member.
He said there's no timeline for developing the other three lots.