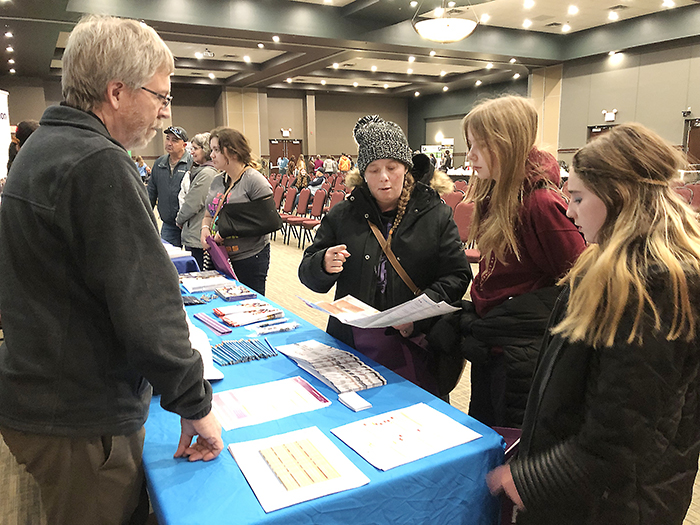 By Pam Wright
Local Journalism Initiative Reporter
"You can't be anything you don't know about."
That's what Windsor carpenter Delaney Krieger had to say as part of We Build a Dream Career Discovery Expo held at the Bradley Centre last week.
Put on by Windsor non-profit organization Build a Dream, the event showcased careers where females are underrepresented, such as the trades, emergency response, or STEM (Science, technology, engineering and mathematics) based professions.
Sponsored by St. Clair College, the expo gave young women the opportunity to meet women in the trades and expose them to ideas they may not have considered.
Krieger, who spoke as part of the Dream Maker panel, said she felt pushed in high school to attend university. She originally planned to study journalism, but then released she could "barely sit behind a desk for five minutes."
She was also told she was too smart for the trades – an idea she now disagrees with.
Krieger ended up attending a career fair and was sold on the trades within 10 minutes.
She said the high cost of university, versus getting paid as an apprentice, also factored into her decision.
"I love my job," said Kreiger, who works as a drywall, acoustic and lathing applicator. "It's hands on. I'm so excited to go to work. It's been four years and I still feel like that. If you love what you do you never work a day in your life."
Kreiger was part of a five-member panel that took to the stage to discuss the advantages and barriers facing females entering the male-dominated jobs.
Chatham's Bella Steinfield was also part of the panel. The 16-year-old Chatham-Kent Secondary School student is doing co-operative education placement with Armstrong Macko Automotive in Chatham.
She's learning the basics of being a mechanic and is really enjoying it. And while the teenager is the only female working in the shop, she said she feels supported and respected.
Steinfield said she chose the placement after taking an automotive course at school, where she was only one of two girls in the class.
Her advice to other young women is to not be afraid.
"Don't let anyone interfere with what you want to do," Steinfield stressed. "Don't let it scare you."
Warren Seton, who was helping staff the OYAP (Ontario Youth Apprenticing Program) booth for the St. Clair Catholic District School Board, said change is afoot when it comes to females choosing careers that have traditionally been male-dominated.
"I'm definitely seeing a change when it comes to young women entering the trades," Seton explained. "Skilled trades offer viable and rewarding careers, and there are many good jobs here in Chatham-Kent.
"We want our young people to stay here," he said. "There are good opportunities right here."
By 2026, the province projects that one in five job openings will be in the skilled trades. Currently, 85 to 90 per cent of an apprenticeship is on-the-job training and there are some 24,600 employers in Ontario at present offering paid apprenticeships.