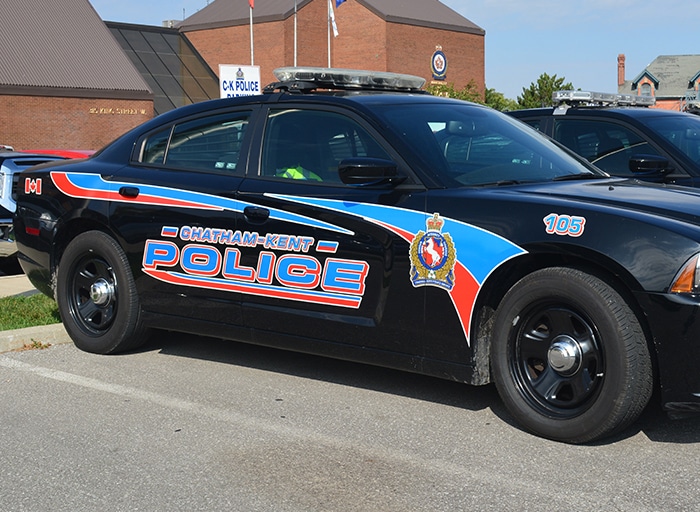 No show in court 
He may not have showed up for a court date, but a Wallaceburg man turned himself in on Wednesday to the police.
The man attended the Chatham-Kent police Wallaceburg station and turned himself in. The man was arrested on a warrant for failing to attend court related to a motor vehicle collision where the man was charged with leaving the scene of a collision. 
A 62-year-old Wallaceburg man was transported to police headquarters and released with conditions and a further court date. 
Missing items leads to charges
A Chatham woman faces charges connected to attempted theft at the Real Canadian Superstore Wednesday. 
At 11:22 a.m., police responded to the call. Before police arrived, the items were recovered, and a woman left the store. 
Police were able to identify the woman by using surveillance footage. They learned the woman was bound by a probation order which included a condition not to attend the Real Canadian Superstore. 
A 35-year-old Chatham woman was later located and arrested. She was charged with theft, possessing stolen property, and violating a probation order. She was released with a future court date.  
Warrant arrest
On Wednesday, police located a man on Dufferin Avenue in Chatham. 
Through investigation, police learned the man was wanted on a warrant for failing to attend court after being charged with impaired driving. 
A 62-year-old Chatham man was arrested and transported to police headquarters. He was held pending a bail hearing. 
Drunk in public
It appears drawing attention to herself was not a good idea for a woman early this morning.
Police responded to a disturbance on Talbot Street East in Blenheim about 3:40 a.m.